It's a relatively small, privately funded project. But it could be the next step in humanity's necessary attempt to colonize the cosmos.
---
For us, the living, the question of colonizing the cosmos is entirely theoretical.
It will be a centuries-long undertaking.
We're nowhere near solving some of the threshold issues involved in such a project.
Constructing a spacecraft, for instance, capable of supporting not just the initial volunteers who would sign up for such a journey but for the succeeding generations who will, by necessity, complete it.
Not to mention there's also a major power problem. How the heck will we fuel this spacecraft, which will be huge and will have to travel at about 150,000 miles per hour?
We do follow several small cap aerospace companies – Aerojet Rocketdyne Holdings Inc. (AJRD) and Orbital ATK Inc. (OA) – and have identified tangible ways to participate in space-based projects.
Aerojet and Orbital may, indeed, participate in some of the ambitious projects that will gather information about nearby candidates for colonization.
Right now, the inquiry is focused on Proxima b, the Earth-like planet orbiting the star Proxima Centauri.
Proxima Centauri is about 4.22 light-years away (or about 24.8 trillion miles) from Earth in the Alpha Centauri system.
Alpha Centauri — our sun's closest stellar neighbors — also includes Alpha Centauri A and Alpha Centauri B, which are both about 4.3 light-years away from us.
Astronomers announced in a paper published August 25, 2016, in Nature that they'd detected Proxima b, which is at least 1.3 times the mass of Earth, suggesting it's a "rocky" planet and orbits Proxima Centauri in the star's "habitable zone."
Another study found that Proxima b "is likely to harbor liquid water at its surface and, therefore, to harbor life-forms."
It's impossible to verify what researchers have theorized without photographic evidence.
And Proxima b's orbit is so close to Proxima Centauri that it's impossible to photograph even with space-based telescopes. The task has been compared to capturing an image of a firefly by a lighthouse from 10 miles away.
Well, Project Blue – a private effort led by the BoldlyGo Institute, Mission Centaur, the SETI Institute, and the University of Massachusetts Lowell – is getting ready to photograph the Alpha Centauri system. And it could, someday soon, provide confirmation.
According to an October 11, 2016, press release from BoldlyGo: Project Blue will "fund, build and launch a compact exoplanet imaging telescope" with an aperture of approximately 45–50 centimeters that would be "small enough to fit in the trunk of a compact car" for the express purpose of determining whether there are Earth-like planets in the Alpha Centauri system.
It is a narrowly focused endeavor, with only Alpha Centauri as its objective. But it could also be "the holy grail of exoplanet research."
Project Blue will be the first to take a picture of another "pale blue dot," as Carl Sagan described it, a planet "as small as Earth, in an orbit that could potentially sustain life."
BoldlyGo CEO Jon Morse estimates Project Blue will cost about $25–50 million, which is a lot cheaper than the average NASA mission. And the project aims to fund itself with donations and grants from private entities.
According to Scientific American:
Lofted into low-Earth orbit in 2019 or 2020, the tiny telescope would spend two years staring at Alpha Centauri's two stars, then stacking up tens of thousands of sequential images to amplify the appearance of any promising dots and to confirm their planethood by watching them whirl around their respective stars. Another project partner, the SETI Institute in California, will process, archive, and publicly distribute the mission's data.
It is a narrowly focused endeavor, with only Alpha Centauri as its objective.
But it could also be, as Morse describes it, "the holy grail of exoplanet research."
At the same time, odds strongly favor the existence of at least one Earth-like planet out there. As Morse noted to Scientific American, based on the discovery by NASA's Kepler mission of 1,284 new planets, "there should be as many small planets like the Earth as there are stars."
---
Money Quote
"The cosmos extends, for all practical purposes, forever. After a brief sedentary hiatus, we are resuming our ancient nomadic way of life. Our remote descendants, safely arrayed on many worlds throughout the solar system and beyond, will be unified by their common heritage, by their regard for their home planet, and by the knowledge that, whatever other life may be, the only humans in all the universe come from Earth. They will gaze up and strain to find the blue dot in their skies. They will love it no less for its obscurity and fragility. They will marvel at how vulnerable the repository of all our potential once was, how perilous our infancy, how humble our beginnings, how many rivers we had to cross before we found our way."
— Carl Sagan, Pale Blue Dot: A Vision of the Human Future in Space
Smart Investing,
David Dittman
Editorial Director, Wall Street Daily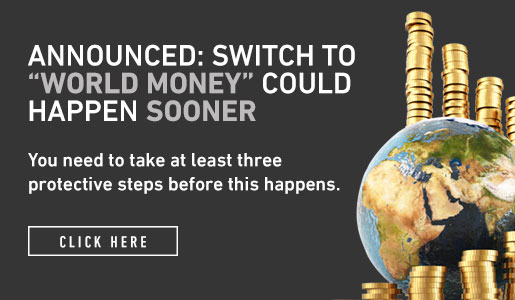 Comments (1)