Profit From the Death of Cash With This Mobile Payment Leader
Editor's Note: For the second and final day, we're bringing you coverage from our partners at The Rude Awakening. In today's column, Greg Guenthner hits on a major socio-economic theme that we've covered many times here ourselves – the rise of the "cashless society." As the use of cash dwindles, electronic payments have taken over. And in our always-connected lifestyles, the mobile payment industry in particular has grown significantly in recent years. Below, Greg discusses the growth trend and profiles the leading player in the space.
---
Still waiting on your deadbeat friend to reimburse you for that lunch you shared two months ago?
Well, no need to hang around for him to get cash from the ATM.
Cash is dead.
Whether you like it or not, currency is going digital. The days of pulling a wad of greasy bills out of your pocket are numbered.
In its place are popular new mobile payment apps – like Venmo from PayPal Holdings' (PYPL), which is quickly becoming an everyday name in the mobile payment market.
Getting started is as easy as adding a new credit card to your Amazon account. The app automatically syncs your contacts through your phone and you're ready to make payments to friends, coworkers, and family.
To make a payment, all you have to do is pick up your phone. No checks, cards, or cash necessary. It's that simple. And people are using the app for everything – from buying a cup of coffee to even paying rent.
Venmo's growing success makes PayPal the top dog in mobile payments.
In the last quarter alone, Venmo processed $4.9 billion in payments, according to The Wall Street Journal. It's well on its way to processing $20 billion by the end of the year. That's a lot of coffee.
It's symptomatic of the wider growth surge for the mobile payment industry…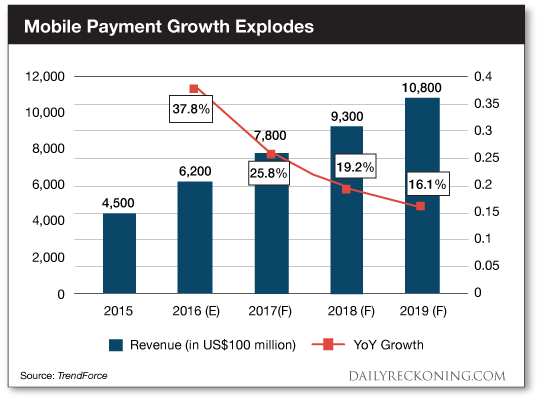 Fight, Flight… Or Profit?
The trend towards an increasingly cashless society is large – and still growing.
Right now, cashless payments make up over 80% American transactions. And the shift has seen consumers embrace mobile banking alternatives and peer-to-peer services like Venmo.
Now, you have two choices here…
You can either fight this powerful trend. Or you can profit from it.
Right now, you have a real shot at the latter, as the use of mobile payment platforms continues to surge.
And of course, PayPal isn't the only player in the game.
For example, Apple (AAPL) Pay transactions totaled nearly $11 billion last year, barely beating the $10.2 billion in payments processed by Square Inc. (SQ).
Other major solutions are going to step up and challenge Venmo in the very near future, too.
One of them is Zelle – the brainchild of Bank of America Corp. (BAC), Wells Fargo & Co. (WFC), and JPMorgan Chase & Co. (JPM), which is desperately trying to grab some attention before its official launch in 2017.
But when it comes to explosive growth, PayPal is our top pick.
PayPal Rules the Payment Game
On October 24, the company released incredible third-quarter numbers that helped propel the share price to a new 52-week high of $44.52.
Active customer accounts rose by 11% to 192 million, with the number of average transactions per active account increasing, too.
Mobile payment volume was way up, jumping by more than 50% to $26 billion in the third quarter. Oh, and it doesn't hurt that mobile payments now make up nearly 30% of PayPal's business.
It gets even better, too.
PayPal has already teamed up with Facebook Inc. (FB) and Snapchat in the latest peer-to-peer payment innovations. These partnerships should have a big impact on PayPal's growth over the next couple of years as more consumers flock to mobile payment options.
With PayPal shares now trading at their highest levels since the company split from eBay Inc. (EBAY) in 2015, a new era of growth awaits. And given its stellar quarterly numbers, we can ride the growth trend into 2017.
Sincerely,
Greg Guenthner
Editor, The Rude Awakening
Wall Street Daily Note: Our normal Wall Street Daily service will resume with David Dittman tomorrow. But before you go, make sure you check out Greg's market commentary on a regular basis by signing up for his Rude Awakening columns here. It's totally free and you'll learn how to profit from a variety of industries and trends, as well as how to make money in any market.