By now, I hope you've been able to view the documentary I did with New York Times bestselling author, Peter Schiff.
As part of the documentary, we offered a free copy of Mr. Schiff's special 2016 edition of The Real Crash – America's Coming Bankruptcy.
It's worth noting that many of the book's predictions are coming to pass thus far in 2016, and that we are skating on economic ice that is far thinner than the mainstream economists had ever imagined. If Peter was right about the economy, there's a good chance that his financial predictions will also follow suit. (In fact, his investment strategy is already having a spectacular year.)
I strongly suggest that if you haven't yet taken the time to review your overall investment strategy, that you do so now, while all options are still on the table. It's crucial to prepare your portfolio for the world as it actually is, and not the way politicians and the financial mainstream pretend that it is. Peter Schiff's Euro Pacific Capital thinks differently from the typical Wall Street firm, and adding exposure to their strategy could make a huge difference to your financial well-being in the years to come.
Fasten Your Seatbelts…
At the end of 2015, Wall Street and Washington stood nearly united in the belief that in the coming year the U.S. economy would finally emerge in the clear after nearly seven years of weakness.
Since 2008, the U.S. Federal government and the Federal Reserve have showered the economy with unprecedented amounts of monetary and fiscal stimulus. Many trillions of dollars in the form of deficit spending, zero percent interest rates, and quantitative easing had supposedly saved the economy from ruin. The fact that growth over that time never even came close to the 3% rate that economists consider normal, was chalked up to a long list of temporary, unforeseen, and manageable problems that were mostly imported from abroad.
Economists had imagined those clouds would lift in 2016.
They argued that the global economy would be led by a resurgent United States, finally reaping the benefit of the Fed's bold stimulus experiment – moves that other central banks were supposedly too timid or too stupid to undertake.
They believed that U.S. economic strength would allow the Fed a much-needed opportunity to finally raise interest rates significantly (they had remained at zero for seven years), and to draw down some of the $4.5 trillion in assets that had been added to its balance sheet since the crisis began in 2008.
If the Fed raised rates at the pace of the last rate-tightening cycle (2003-04), many concluded that rates could be at 2% by the end of 2016. These assumptions powered the U.S. dollar to generational highs against a basket of non-dollar currencies.
In contrast, Peter Schiff predicted that even the smallest rate increase would destabilize U.S. markets and that the first rate increase would create economic conditions that would prevent any additional hikes. He argued that since the great dollar rally was based on the assumption of higher rates and strong growth, the dollar would fall sharply once those assumptions proved false.
Guess what? He was right and virtually everyone else was wrong.
It's a Bumpy Ride Ahead!
As promised, the Fed did raise rates by one-fourth of a percentage point in December 2015 – the first rate increase in nearly a decade.
But the confidence inspired by that hike collapsed almost immediately…
Since then, we've seen a nearly continuous deterioration of forward-looking economic statistics. Three percent growth is, once again, a pipe dream. The first half of 2016 is tracking at about a 1% rate (and only if you believe the government's ridiculously low inflation claim), and we'll be lucky to avoid outright recession.
At the same time, the stock market stumbled horribly out of the gate, and notched its worst January since records were first written. The bleeding didn't stop until the Fed finally relented and promised to go slower on rate increases.
Further, the Fed has continually softened its tough talk on rates. By summer, they had virtually conceded that they're out of the rate-hiking business for the foreseeable future. Peter believes that it is just a matter of time before recessionary forces compel the Fed to go in the opposite direction – additional stimulus and further expansion of their balance sheet, far beyond current levels.
But amazingly this is a reality that virtually no mainstream economist or financial advisor will even consider. They're still talking of speed bumps and soft patches, when we've actually hit a brick wall.
We're on a Collision Course, Folks!
The latest winds to buffet the market arrived from England where voters defied expectations, and decided to take the United Kingdom out of the European Union – the Brexit.
The resulting uncertainty has threatened financial markets and has further convinced investors that the Fed will not raise rates any time soon. In fact, the markets are now pricing in the higher probability of a rate cut, rather than a rate hike.
Current uncertainties, however, go way beyond the "Brexit" vote.
If the global financial system were healthy, Brexit would have been a non-event. After all, how could the decision of one country of 60 million people to simply disengage from a trading bloc, so disrupt the global economy? It's not like Great Britain will suddenly fall into a black hole. No one expects that its strategic and trading alliances will change in any meaningful way, and its economy will continue to function. The UK was never even a full member of the EU.  Yet this one event is supposed to upend all prior economic calculations?
The Brexit market reaction reveals that investors and economists have priced the markets to perfection, and that anything less than the best possible outcome would be enough to unleash panic.
This also shows how fragile markets have become, and how easily investor confidence can be shaken.  Stock prices are at record levels in the United States, and bonds are selling at negative yields in Europe, not because the investments represent good values or offer good returns, but because printed money has been force-fed into already-bloated assets.
When really bad economic news finally does come to light, these overbought asset classes will face their day of reckoning.
However, with very little fanfare, the investment options that Peter Schiff has favored, are starting to heat up.
This year alone, U.S. market averages have struggled to tread water, but Euro Pacific's strategy of investing outside of the dollar – in high-value dividend and commodity stocks – has had the best half-year in recent memory.
For example, according to Morningstar, Peter's International Value Fund (EPIVX) rose by 31.3% in the first half of 2016, beating the average fund in its category by 34.34%, ranking it the best-performing fund out of the 370 funds tracked by Morningstar in the Foreign Large Cap Value category.  While the average fund in that category lost over 3% in the first two quarters of 2016, investors in Peter's fund actually gained over 30%.
But in absolute terms, investors in Peter's Gold Fund (EPGFX) did even better, as that fund rose by a staggering 112.23% in the first half of 2016, beating the average gold fund by 17.09%!
Peter believes that these strong moves are just the down payment on a much larger move to come – once rank-and-file investors finally perceive the real risks facing the U.S. dollar and the U.S. economy.
The good news is that the unwinding of carried trades following the Brexit has temporally propped up the weakening U.S. dollar.
The increase is being attributed to the dollar's safe haven status, but the truth is, the Japanese yen has been even stronger than the dollar.
While it's hard to argue that Japan is a safe haven from anything, this is all about leveraged speculators getting caught. Major European banks have been decimated, experiencing more spectacular declines than those of the financial crisis of 2008.
Once the dust settles, fundamentals will reassert themselves quickly, and the dollar should head much lower. With Brexit providing the Fed with the excuse it has been waiting for, soon markets will begin preparing for the next round of monetary stimulus, which should see the Fed reduce rates back to zero – maybe even going negative, and launching QE4.
Peter predicts that this will be a game-changer for the dollar, where false expectations of higher growth and interest rates have set the currency up for a crash.
If you have wealth to protect and grow, I urge you to call Euro Pacific Capital, and ask to speak to one of their experienced investment advisors. They can speak in great detail about how Peter Schiff is positioning clients to withstand the coming economic reshuffling that few others on Wall Street see coming. You can reach them at 800-727-7922.
In addition, I would urge you to subscribe to their free newsletter, the Weekly Digest, which is chock-full of Peter's latest responses to breaking economic developments.
Mr. Schiff's Digest also provides links to all his video interviews, video blogs, commentaries, and press coverage.  In this way you are always up-to-date on his current thinking, and can put that knowledge to good use.
Take action today, as events have a nasty habit of overtaking the unresponsive.
Onward and upward,
Robert Williams
| | |
| --- | --- |
| | In addition to once being a full-time trader of equities and equity derivatives, Robert has also served as the lead financial analyst for a Forbes top-50 private corporation and as an analyst for an institution whose endowment is among the largest in the world. Learn More >> |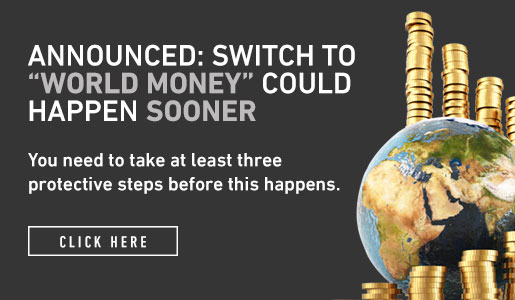 Comments (1)