Benjamin Graham, Warren Buffett's mentor, is a source of a lot of wisdom when it comes to investing in equities.
On Friday morning I was reminded of one of Graham's particularly compelling precepts by Eddy Elfenbein, host of the Crossing Wall Street blog: "Buy not on optimism, but on arithmetic."
Emotion must be checked on the upside as well as the downside.
As important as it is not to succumb to fear when there's blood in the streets, we must also resist exuberance when everyone you know is buying, buying, buying.
Fundamental Arithmetic
Graham's arithmetic in this context is all about measures of fundamental value, such as price-to-earnings (P/E) and price-to-book (P/B) ratios.
"The father of value investing" established bright-line rules for these ratios: The P/E shouldn't be over 15, and the P/B shouldn't be over 1.5.
The "Graham Number" – the product of a stock's P/E ratio multiplied by its P/B ratio – is a general measure of a stock's fundamental value.
Thus, 22.5 is the upper band of the price range a value investor should pay for a stock.
This is a very general, "rule of thumb" take on Graham's approach. Indeed, it's more than a little reductionist.
Graham also took into account annual sales, or revenue, with a bias toward companies generating $500 million or more (in today's terms).
He also looked at balance sheets. Current assets should be at least twice current liabilities, and long-term debt shouldn't exceed the net current assets.
Graham wanted to see positive earnings for 10 straight years, and he required minimum earnings-per-share growth of 33% over that same period.
Technical Arithmetic

Benjamin Graham is an indispensable resource for the long-term investor. The tools he crafted are time-tested in terms of identifying high-quality publicly traded businesses.
And when you're investing for the long term you definitely want to buy the business.
There's another way to make money in the stock market using arithmetic.
That's what Senior Analyst Jonathan Rodriguez, an expert on technical analysis, does for members of his Trigger Point Pro service.
The approach Jonathan employs is rooted in the mathematical properties behind the Fibonacci sequence and Golden Ratio.
The Fibonacci sequence – 0, 1, 1, 2, 3, 5, 8, 13, 21, 34, 55, 89, 144, 233, 377, 610… – extends to infinity and includes some fascinating properties.
For instance, after "0" and "1," each number is the sum of the prior two numbers.
A number divided by the previous number approximates to 1.618. This is the Golden Ratio, also known as phi.
And a number divided by the next-highest number approximates to 0.618. This is the basis for the 61.8% Fibonacci retracement marker.
Both ratios are found throughout nature, architecture, art, and biology.
And they're useful tools for technical analysts.
Profitable Arithmetic
Fibonacci retracements and the Golden Ratio aren't the only technical tools in Jonathan's kit.
He knows how to use P/E ratios, too.
Indeed, according to Graham's logic and Jonathan's analysis, one sector has become particularly pricey in recent weeks and is ripe to be sold.
As Jonathan notes, economic uncertainty has triggered a massive selloff in the broader market.
A desperate flight to safety has all three major U.S. equity indices down nearly 10% over the past 12 months. Gold, U.S. Treasuries, and utility stocks have all benefited from this dynamic.
Utilities are traditionally a great way to play defense in the stock market. The sector offers attractive yields supported by stable and predictable cash flows. And the stocks aren't as volatile as the broader market.
Over the past six months the S&P 500 Index has developed a negative correlation with the utility sector – when the broader market rallies, utilities lag, and when the broader market sells off, utilities rise.
Herein lays a "fantastic momentum play."
Since December 2015 the utilities sector has been on a tear, as safety-seeking investors have piled in.
Utility valuations are now well above 10-year averages. The sector price-to-earnings (P/E) ratio right now is at a 13% premium to its long-term average.
Duke Energy Corp. (DUK), one of the biggest utilities in the U.S., is trading at a 22% premium to its long-term average P/E ratio.
The S&P 500 broke out of a five-session losing streak last Friday, February 12, and has posted a strong, week-long rally since then.
If this short spurt develops into a full-fledged uptrend, utilities will sell off sharply.
Take three short minutes to learn about a simple short-selling strategy that will help boost your overall portfolio.
Around WSD
Senior Analyst Jonathan Rodriguez, the star of this weekend's Saturday Spotlight, takes a broader look at the stock market and details another technical indicator that may be telling us something very important right now.
Indeed, both the Dow Jones Industrial Average and the S&P 500 Index could be close to breaking out from "double-bottom resistance."
Jonathan also identifies a well-known stock shaping up for its own breakout.
Our top technician then takes a look at the Midas Metal, raising the question whether an impending stock rally could spell "downside" for gold.
Jonathan names names here, too, with an actionable idea to profit on a gold reversal.
Chief Income Analyst Alan Gula surveys recent action among global central bankers, who are now hell-bent on widespread implementation of negative interest rate policy.
Indeed, "there now exists $7 trillion worth of negative-yielding government bonds around the world."
This is all about putting off a necessary (in the long term) but painful (in the short term) process of winding back the multi-decade debt supercycle.
Global Markets Analyst Martin Hutchinson breaks down risks and opportunities in the real estate investment trust (REIT) sector.
Martin shines a light on the ominous specter of overbuilding inspired by cheap money. But he also identifies several conservative REITs worthy of your investment capital.
Finally, Martin shocks just about all of us with a ringing endorsement of a new Obama administration proposal: a $10.25 per barrel tax on oil.
Martin concludes that the tax would have minimal negative impacts on consumers, including the poor. And its impact on economic growth would be modest.
Indeed, it may help with debt reduction. And that's a strong positive.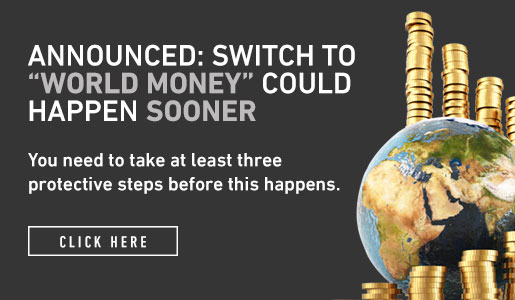 Comments (1)