Editor's Note: Former Wall Street Daily Managing Editor Samantha Solomon is taking a year-long sabbatical to work at a meditation retreat center in the Green Mountains of Vermont.
We've invited Sam to share her thoughts and experiences as she adjusts to a significant lifestyle change, with an emphasis on budget priorities, long-term financial planning even with reduced income, and balancing the "spiritual" and the "practical."
Welcome to Young & Prudent, Sam's weekly look at the 21st century economy from a millennial's perspective.
We hope you enjoy it. And please share it with your children, grandchildren, and any twenty- or thirty-somethings you know.
It's the first day of 2016! The air is full of fresh possibilities. Or is that stale champagne? Either way, most millennials are vowing to be healthier, accomplish a personal goal, or finally get that dream job.
But on top of any typical resolution, I think everyone should also have a financial goal for the year. My New Year's resolution: establish solid financial priorities geared toward increasing my savings.
But before we get to that, let's take a step back and get some perspective on what kind of economic environment we'll be living in this year.
The Wide View
Overall, reports and analysts agree that the global economy will grow in 2016, albeit not by much.
The International Monetary Fund's World Economic Outlook predicts a 3.6% expansion of global gross domestic product (GDP) on an inflation-adjusted basis. That's only slightly higher than 2015's prediction of 3.1%. Europe is likely to do the best, followed by Asia.
In terms of the United States, Bill Conerly's recent outlook article for Forbes gives a useful sector-by-sector summary.
Milliennials will be most interested to know that consumer spending won't lead the economy but should follow any rises or drops. Employment numbers will grow at the same pace as the past three years. And interest rates will rise.
Readers will also be happy to know that subdued inflations rate should give everyone a boost. Wages are expected to rise, but prices will stay the same.
My Resolution
As a staff member at a Buddhist meditation retreat center, I spent the ball drop practicing tonglen – the meditation technique of taking in the bad and sending out the good.
For my personal economic outlook this year, I need to carefully consider how much I'll be taking out of my pot for expenses, and how much I'll be giving to my savings.
My resolution is to have a solid amount of cash set aside (on top of my general savings) by the time I leave the retreat center in a year. I want to avoid being desperate for a new income stream as soon as I move back to the city.
Doing this will give me the space to relax and carefully consider my next step rather than rushing into the first job I'm offered.
But saving my money hasn't always been easy.
That's why I'll be practicing a year of strict prioritizing.
Ch-Ch-Ch Changes
I've only been living at the retreat center for two months, but in that time the way I spend my money has changed drastically.
I've always struggled with saving money. But I've managed to find a savings system that's worked for me over the past five years – direct deposit into a secondary bank.
Still, I've only built up a small emergency savings fund. The rest of my paychecks went to bills, dinners, too many drinks, new boots, Uber rides, and vacations. You know, typical late-20s expenses.
I always wished I had more padding in my main account. But I never seemed to be able to cull my spending enough.
Working at the retreat center, though, has been a forced lesson in extreme frugality. Three important things happened when I moved here:
My income shrank to a small monthly stipend and part-time freelance jobs.
My food and living facilities are provided by the retreat center at no cost.
I'm surrounded by people in the same financial situation.
Because of these changes, I now watch my spending like a hawk.
I've found that when I have very little money coming in, it's easy to carefully consider each dollar. But the third point has been the most influential.
Culture Makes a Big Difference
You see, the culture I'm in now is extremely budget-conscious and not consumer oriented. It's not that I was hanging out with big spenders in Baltimore. But just being in a buzzing city creates pressure to spend and a culture of consumerism.
No one at the retreat center is walking around in the latest fashions when the clothes they have will do. Social activities outside the center are always either free or cheep and sparse. And dinners out are reserved for special occasions.
It's this culture that has made it easy to change my perspective.
Every time I go to buy something I ask myself if the item is an absolute necessity. Sometimes it is. I had to spend a few hundred on snow tires, which I'm told are a must if you want to stay mobile during the Vermont winter.
Other times, though, the lack of societal pressure to have the latest and greatest means I let things slide that never used to.
For instance, I wanted some more stylish gloves for the long winter. But I decided I could live with my bulky ski mittens. Some of my socks are getting worn in the heels, but I decided to just start doubling up to make them last longer.
There's no denying that all the meditation, with its emphasis on relaxing into the present moment, helps to create this culture of contentment and cull my hungry desire to buy new things.
I'm certain I won't want to maintain this level of frugality after I leave the retreat center. There's nothing wrong with spending the money you make. But working toward my resolution will be an important experience that will influence my spending for years – a skill that will ultimately result in more money.
Now, all I have to do is stick with it.
Mindfully planning,
Samantha Solomon
| | |
| --- | --- |
| | Former Wall Street Daily Managing Editor Samantha Solomon is taking a year-long sabbatical to work at a meditation retreat center in the Green Mountains of Vermont. In her weekly column "Young & Prudent," Samantha examines the 21st century economy from a millennial's perspective. Learn More >> |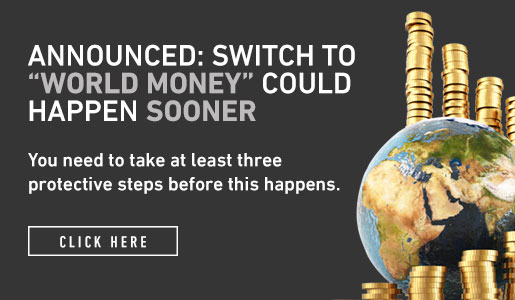 Comments (1)