It's not surprising that Americans are a bit disenfranchised with their political system.
With extreme partisanship, the government shutdown, and Congress' complete inability to cooperate with President Obama, it's no wonder. The country has been in a virtual stalemate for the last eight years!
And it looks like the upcoming primary will be full of tired, career politicians yet again.
The public is surely longing for someone new and fresh. Someone who reminds us of the great politicians of the past. Someone with no political experience, perhaps…
It's true! History has shown that candidates don't need political experience to win a presidential election.
In fact, all a candidate needs to do is pass a test that, over the past decades, has proven to be a tried-and-true indicator of candidates worthy of presidency.
History as a Study Guide
It's called the "Eisenhower Test."
You see, Dwight Eisenhower had never run for an elected office before winning the presidency. And he's not alone. Zachary Taylor, Ulysses S. Grant, William H. Taft, Herbert Hoover… they've all done the same!
No experience, yet all of those gentlemen were elected president on their first attempt, and several of them proved to be pretty good at the job! (Personally, I would put Taft at the top of that list.)
However, the majority of the aforementioned successful "non-politicians" had one factor in common: Their non-political careers had been truly exceptional. This is the Eisenhower Test.
You see, Taylor won the Mexican War, Grant won the U.S. Civil War, and Hoover had been a staggeringly successful international engineer and a world-famous humanitarian.
And, of course, let's not forget Eisenhower, who won World War II.
Of this group, only Wilson and Taft had pre-presidential careers that were average. Wilson was the President of Princeton University. Taft served as the Governor-General of the Philippines, but made some questionable decisions during his tenure. He also served as the Secretary of War, but was widely seen as just a factotum for Theodore Roosevelt.
History is an excellent teacher. But, still, times have drastically changed since the Eisenhower era…
Ike announced his candidacy in January 1952, did no campaigning before his retirement from the military on June 2, and contested the nominating convention in July.
These days, Presidential candidates announce their candidacy more than a year before the nominating convention. Afterwards, they must compete in nationwide primaries and in the pre-primary process of carefully crafted stump appearances, TV events, and debates against the other candidates.
Still, there are a few Eisenhower-like candidates in the running. And history does repeat itself…
The Next Eisenhower?
On the republican side, we have: Carly Fiorina, former CEO of Hewlett-Packard (HPQ); Ben Carson, famed neurosurgeon, and Herman Cain, a successful executive in the fast food industry.
Fiorina certainly broke a number of glass ceilings by rising from the secretarial pool to the CEO of Hewlett-Packard. However, her term was marked by redundancies and strife at the company, and no significant breakthroughs or changes. Although, Fiorina herself did very well financially.
Yes, Fiorina has a useful line in political invective. But, her reputation as a CEO who laid off 30,000 people makes her a tough sell to the voters – as she discovered in her 2010 California Senate run.
Carson will certainly go down in history as one of the best neurosurgeons in the world. But we've yet to see any retired medical professionals follow the Eisenhower path. Sure, Senator Rand Paul (a fellow candidate for the presidency) and the former republican Senator from Oklahoma, Tom Coburn, are both retired doctors and have had successful political careers. But they did not begin at the top, as Carson aims to.
Still, Carson appeals to evangelical voters, but he'd probably connect far beyond that niche, which is likely to be crowded by Mike Huckabee and Rick Santorum – both of whom are likely to run.
As for Herman Cain, he demonstrated successful management of a pizza franchise. But he relies too much on his ready tongue, which can only get you so far in a world where the media demands geo-political sophistication of its heads of state.
It seems none of these Republican candidates are able to pass the Eisenhower Test. But there are still the Democrats.
A Philosopher and a Businessman
This year offers a unique opportunity for a non-politician Democrat to make some headway, as Hillary Clinton appears to have no serious opposition from top-level politicians in the party.
Since the Democrat base is viscerally anti-business, a businessman would undoubtedly have difficulty.
However, when paired with a well-known philanthropic spirit, a business type might have a chance. I'm talking about Bill Gates, who has achieved an Eisenhower-level of success in both business and charity.
Gates' politics are unclear, but he seems to be leaning Democratic. He's given money to both the Democrats and Republicans (with a bit more to Democrats). And the Bill & Melinda Gates Foundation has given over $200 million to support the education Common Core, a Democratic policy.
At 60, he's the right age to run. And his philanthropy might be enough to give him traction in the Democratic primaries. Meanwhile, his business savviness and international experience would make him a formidable general election candidate against any Republican.
Plus, Hillary Clinton would really face an uphill battle to raise enough money to compete against Gates, with his endless resources.
In a time when the public is getting more and more fed up with career politicians, an Eisenhower candidate may have a chance of grabbing the seat in our White House.
Good investing,
Martin Hutchinson
| | |
| --- | --- |
| | For 27 years, Martin Hutchinson was an international merchant banker in London, New York, and Zagreb. He ran derivatives platforms for two European banks before serving as director of a Spanish venture capital company, advisor to the Korean company Sunkyong, and chairman of a U.S. modular building company. Learn More >> |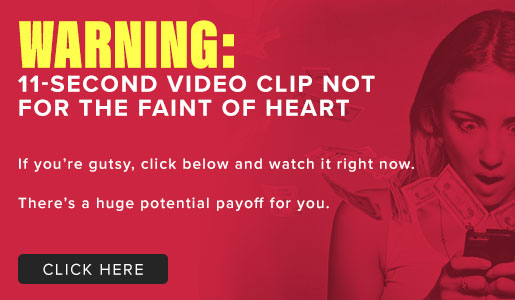 Comments (27)