The public outrage over police brutality in America came right to Wall Street Daily's front door last week.
Riots broke out in Baltimore after 25-year-old Freddie Gray died in police custody.
The protests that followed have sadly become an all-too-common scene on America's streets over the past few decades.
But it doesn't have to continue.
There's something we can implement very easily that would go a long way towards avoiding these situations. And it's an insanely simple solution…
Caught on Camera
Back in December, in the wake of the police shooting of Michael Brown in Ferguson, Missouri, I wrote about the push for the increased use of police body cameras.
The subsequent deaths of Eric Garner in New York, Walter Scott in Charleston, and Freddie Gray in Baltimore – all at the hands of the police – have only intensified that debate.
There are several goals of a proper police camera program.
Among the most immediate – and pertinent to recent history – is to help get the truth behind police encounters with civilians. Particularly when those encounters result in injury or death to a civilian or police officer, or when allegations of police brutality or abuse of power are made.
In doing so, cameras would reduce such conflict and abuse of power, while increasing safety for both civilians and officers alike. After all, people tend to behave better when they know they're being watched. Cameras leave little doubt about the real story, and help determine whether someone is lying about being abused, or whether the police are lying about abusing victims.
In the Ferguson case, for example, the grand jury found that the police officer, Darren Wilson, had acted properly and that the shooting victim, Michael Brown, had attacked him, just as Wilson had reported. The jury came to that conclusion partly because it weighed the testimony of some eyewitnesses more heavily than others.
But could the riots that followed have been prevented if body camera footage had quickly proved what happened beyond any doubt? We'll never know. It could have helped shift the argument and ease the tension, or it might not have helped at all.
It's important to note that while body cameras are a tool to help civilians and the police alike, they're not an absolute panacea.
For example, in Freddie Gray's case, while his death has provided more impetus for body cameras, his fatal injuries apparently occurred inside the police van, where body cameras are unlikely to have captured the event. In Baltimore at least, where punishing arrest victims with bumpy and injurious van rides is seemingly not uncommon, cameras will have to be put inside the vans, too.
And following the recent high-profile incidents, they're coming…
Politicians Unite
That reality was reinforced by the New York, Charleston, and Baltimore events. And the resulting protests, riots, and looting here in Baltimore got politicians' attention in a big way.
These lawmakers span the political spectrum, too, as both Democrats and Republicans are in favor of body cameras…
The Obama administration and new Attorney General, Loretta Lynch, announced a $20-million plan to support body camera pilot programs. This money is part of the overall $263 million in spending over the next three years that I mentioned back in December.
Hillary Clinton has also since announced that she believes that all American police departments should have body cameras.
Republican House Majority Leader John Boehner is also on board, as are other presidential candidates from both parties, including Martin O'Malley and Rand Paul.
Meanwhile, Baltimore Mayor Stephanie Rawlings-Blake is on the defensive for vetoing a body camera bill, even though she said she supports them and simply wanted to wait for more information.
But even as politicians get on board with body cameras, there's somewhat of a backlash among the media and some activist groups…
The Kind of Surveillance We Should All Embrace
Some say cameras won't solve everything; others cite privacy concerns whenever the police encounter people who aren't criminals. For example, domestic violence victims, or confidential informants, who could be in danger if the people they're informing on see them on camera.
Yet another concern is that the police could have better access to the resulting videos than others, allowing them to square their stories before investigations of possible abuse can get underway.
All of these concerns are legitimate. But none of them make for a reasonable case against the use of body cameras… Rather, they point to the need for careful rules surrounding their use.
Bottom line: Technology has vastly increased the amount of surveillance conducted on Americans. Our TV-viewing habits, internet browsing, and shopping behavior are all known to someone somewhere. And we're on video on the streets, in stores, and banks. Not to mention the kind of surveillance that the government doesn't like to talk about.
Some of it is essential; most of it isn't. It's high time we employ police body cameras, and use surveillance for a good purpose.
To living and investing in the future,
Greg Miller
| | |
| --- | --- |
| | Greg Miller has spent over 20 years in the financial industry, working up from analyst, to portfolio manager, and eventually to an institutional investor, where he managed over $400-million worth of assets in mutual funds and private accounts. Learn More >> |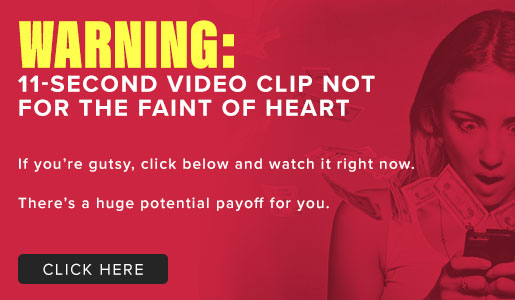 Comments (25)