The Congressional Budget Office (CBO) forecasts a budget deficit of $486 billion for the year.
After that, we'll experience a steady upward trend beginning in 2017 – with the final number catapulting to $1.038 trillion by 2025.
At the same time, we're seeing Hillary Clinton outlining additional spending programs she wants. And Republican presidential candidates are competing over who has the best plan for cutting taxes.
What an utter waste of time.
With the budget deficit skyrocketing to trillion-dollar territory in the next decade, any presidential candidate saying they'll cut taxes or boost spending is lying through their teeth.
Heck, even simply practicing restraint won't be enough to keep the deficit under control.
Indeed, we can be certain that whoever wins the 2016 election will have no choice but to either drastically cut spending or raise taxes.
But it's worth pondering how each candidate will face the coming fiscal policy challenge.
The Next President's Hands Are Tied
The CBO's figures above assume that we'll see no recessions. It's also optimistic about various budget gimmicks – like the "doc fix" that theoretically suppresses Medicare costs by $150 billion a year.
Nevertheless, the upward trend in deficits is inexorable.
The deficit for the year to September 2021 – the last year of the next presidential term – is forecast to be $763 billion. That's two-thirds higher than the current level and 3.3% of gross domestic product (GDP).
Deficits would be on a steadily rising trend thereafter, beyond the 10-year time horizon of the CBO projections. While social security costs for the Baby Boomers continue to rise for a decade or so… and Medicare costs keep increasing, apparently ad infinitum.
If the budget deficit rises by two-thirds in the next presidential term without a recession, you can only imagine how fast it would grow if the U.S. economy sinks into recession at some point in those four years.
Something that's very likely.
We would almost certainly see a $2-trillion deficit, close to the point at which even the Fed couldn't bail out the U.S. government's credit rating.
The next administration is thus going to have to propose either spending cuts or tax rises sufficient to close the budget gap substantially during its term of office.
As I alluded to above, cuts in discretionary spending (the stuff that gets voted on each year) will be completely insufficient. The CBO already has discretionary spending declining by more than one-fifth, from 6.5% of GDP to 5.1% over the next 10 years. It's unrealistic to expect it to decline more rapidly than that. In reality, it's likely to increase, at least a little.
So the next president will face the unpalatable choice between tax increases or cuts in "mandatory" programs, to which voters think they have a legal right.
Here's how each side will likely tackle the problem.
The Republican Plan: Spending Cuts Will Be Key
It's likely that a Republican president would make cuts to mandatory spending by sharply cutting back the Federal student loan program, which appears to be nothing more than a subsidy to expensive colleges that are adding little intellectual value.
Student loans have allowed college costs to increase faster than inflation for decades (with the money being spent on bloated administration and fancy gym facilities and dorms, rather than teaching).
They're now leaving many Millennials mired in debt, with little hope of emerging. So cutting them back looks like a good idea.
The problem is that it won't do much good to the CBO deficit figures, because the CBO hasn't yet figured out what a large problem student loan defaults are about to become.
That doesn't mean cutting back on student loans is a waste of time, it means more cuts will be necessary.
In addition, while it's highly unlikely that Republicans will increase nominal tax rates, they might cut back on deductions.
For instance, the home mortgage deduction benefits a lot of Republicans. But since trimming it would yield decent revenue, they may do it. The healthcare tax deduction is unlikely to be touched.
Another likely target of Republicans will be the state and local tax deductions, since they mostly benefit voters in high-tax states that are solidly Democrat.
Finally, I would welcome abolition of the charitable tax deduction, which benefits mostly the very rich and provides a subsidy to non-market, often left-wing non-profits. However, I don't think the Republicans will have the guts to touch it.
Democrats Certain to Target Taxes
On the Democrat side, top rates of income tax will be raised – but this won't produce much additional revenue.
The more productive route will be an attack on corporate tax. This will involve reducing the rate of U.S. corporate tax from 35% to somewhere in the 28% to 30% range. The plan would compensate for this by placing a minimum tax on international income, so that even companies legitimately earning income in tax havens (normally by stashing their patents there) will be forced to pay some U.S. tax.
It's also possible the rules on savings, such as IRAs and 401(k)s, will be tightened. Most people who use these devices are Republican. And even a modest tax of, say, 5% on people's pension savings would yield a lot of revenue.
The Ideal Plan
All these potential tax rises sound very unpleasant, and they are.
Personally, however, I would raise the majority of the needed new tax revenue by putting a tax of around 0.5% per annum on debt – whether personal, corporate, bank, or hedge fund/private equity fund. This would raise revenue from those playing games with the Fed's ultra-low interest rates – and from those overleveraging themselves.
It also wouldn't substantially burden the poor (who normally can't get much credit) or the normal borrowers of home mortgage debt, who would face only a modest cost increase.
Based on the latest Fed figure of $28 trillion in U.S. debt, this would raise $140 billion annually, thereby making a substantial contribution towards closing the deficit.
It would also provide funding for the inevitable meltdown, when the overleveraged had to be bailed out or have debt forgiven. And it would remove some of the artificial subsidy for credit brought by the Fed's seven years of zero interest rates.
Tax rises are unpleasant but necessary in the next presidential term.
Politicians won't tell you this – but you should bear in mind which tax rises they're likely to use once elected.
Good investing,
Martin Hutchinson
| | |
| --- | --- |
| | For 27 years, Martin Hutchinson was an international merchant banker in London, New York, and Zagreb. He ran derivatives platforms for two European banks before serving as director of a Spanish venture capital company, advisor to the Korean company Sunkyong, and chairman of a U.S. modular building company. Learn More >> |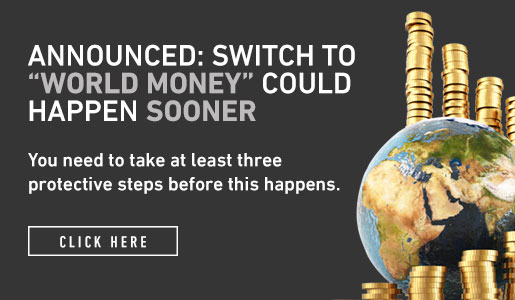 Comments (5)