Hillary Clinton has come under fire in the last two weeks regarding her use of an iPad for her State Department emails and news that the Clinton Foundation had accepted foreign donations.
Yet she's still regarded as the inevitable Democratic nominee for the 2016 presidential election. And she has a good chance of winning it, too.
However, even Democrats must now be wondering whether there's another option.
And while I'd enjoy watching them condemn themselves to a poor candidate, let me suggest four strong alternates.
Why Clinton Shouldn't Be the Only Option
Clinton is an unlikely feminist icon, having obtained her eminence almost entirely through her husband's extraordinary political abilities.
She became a partner in Arkansas' Rose Law Firm after he was first elected governor.
Her oversight of the failed 1990s healthcare reform was gifted by him as president.
She obtained a New York Senate seat as the First Lady. Then she achieved little in the Senate, but obtained pole position for the 2008 nomination because of her husband's presidential success.
Finally, her State Department tenure was, to put it mildly, undistinguished.
She has a very strong sense of entitlement. And when I was covering the economic side of the 2008 campaign with a young colleague, her staff were thoroughly rude and unpleasant. Far more so than the Edwards campaign, let alone the utterly charming Austan Goolsbee of Obama's campaign.
The way I see it, it would only make sense for Democrats to tie themselves to this over-entitled albatross if there were no viable alternatives available.
However, there are several:
Alternative #1: Vice President Joe Biden. Vice President Joe Biden is regarded as something of a joke because of his verbal gaffes. He'll also be almost 74 at the 2016 election, five years older than Clinton. However, the older generation, who remember his stumbling presidential campaign in 1988 and his 36 years of Senate glad-handing, may be underestimating him.
To Millennials, who have known him only as Vice President, he is an avuncular figure, a heartbeat from the presidency, who is notably better than his boss in cutting deals with Congress. As such, he is a highly plausible candidate for the highest office, very attractive to moderates and blue-collar voters who dislike the rigid, preachy Obama.
He would stack up especially well against a glossy, wealthy Republican candidate. Even his age isn't too much of a problem. He comes across as better preserved than Clinton, and we should remember that 75 is the new 60 – comparing today's lengthened lifespans to those in, say, 1900.
Alternative #2: Jerry Brown. Even older than Biden, but perhaps even more plausible, is California Governor Jerry Brown. He'll be 78 in 2016 with 14 years' experience as California governor obtained over a period of more than 40 years.
Brown has strong environmental beliefs and liberal social attitudes, both attractive to the Democratic base. But at the same time, he's been a notably fiscally cautious California governor, with none of the bad overspending habits normal to that state. Brown himself has said that if he were 10 years younger, he would be running. And perhaps 78 isn't the new 60. After all, he'd be 86 at the end of two terms.
However, a Democrat Konrad Adenauer, 87 when he gave up the German chancellorship in 1963, would be no bad thing. I would certainly be tempted by Brown against Jeb Bush.
Alternative #3: Elizabeth Warren. Considerably younger, but a less obviously superior candidate than Biden or Brown, is Elizabeth Warren, 67 in 2016.
Her extreme economic populism would certainly fire up the Democratic base, and she is an excellent speaker. But she has the Obama problem of being only a first-term Senator with no management experience. And she might also "frighten the horses" among swing voters anxious for a quiet life with no extreme policies.
On the other hand, like Clinton, she would do very well among those women who feel (rightly) that it's high time the United States had a woman president, 37 years after even stodgy Britain.
Alternative #4: Kirsten Gillibrand. Finally, Senator Kirsten Gillibrand of New York will be only 49 on Election Day and has nearly four more years' Senate experience than Warren (plus two in the House).
She's also fairly moderate and – dare I say it – attractive enough to appeal to even male floating voters. There aren't many viable Democrats of the younger generation, because of the Republican tsunamis of 2010 and 2014. But Gillibrand would be a highly plausible counter to a younger Republican candidate like Marco Rubio or Ted Cruz.
Announcements Should Come Soon
A catalyst is needed to bring a major candidate out against Clinton. I don't count ex-Governor Martin O'Malley of Maryland, who has a mediocre track record in a small state. Same goes for Bernie Sanders of Vermont, who is older than Biden and not technically a Democrat.
An announcement by Biden or Brown would certainly do it, after which several candidates would doubtless quickly appear.
For technical reasons relating to campaign financing, new candidates will probably announce around the beginning of each quarter, thus either around April 1 or July 1.
Come on, Joe Biden, your party needs you. And from the point of view of at least this Republican, so does the country.
Good investing,
Martin Hutchinson
| | |
| --- | --- |
| | For 27 years, Martin Hutchinson was an international merchant banker in London, New York, and Zagreb. He ran derivatives platforms for two European banks before serving as director of a Spanish venture capital company, advisor to the Korean company Sunkyong, and chairman of a U.S. modular building company. Learn More >> |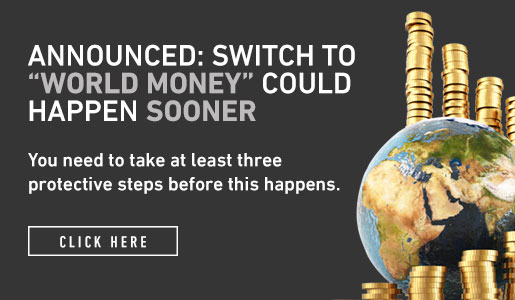 Comments (6)