Politicians will be whipped into a frenzy over the next 18 months in a titanic struggle to win the 2016 election.
Their efforts may be futile, however, since Democrats and Republicans alike are really at the mercy of the stock market.
You see, after being pumped higher by nearly a decade of money printing, the market is almost certain to undergo a mighty crash at some point.
It's a classic game of Russian roulette.
If the market crash strikes before the 2016 election, a Republican will likely triumph. Americans will only be able to focus on the Obama administration's dismal economic track record.
But if the bullet hits after the election, Hillary Clinton or another Democrat candidate should coast to victory.
So who will survive this deadly game?
Glass Half Empty
Since 2008, Republicans have tried to paint a gloomy picture of the Obama administration's economic record.
First, unemployment was much higher than people expected, as the 2009 "stimulus" spending achieved little.
Then the recovery was unexpectedly sluggish. While official unemployment came down, more and more people dropped out of the labor force, suggesting that many had just given up on finding work.
After that, even as unemployment numbers improved further, wages lagged and middle class living standards fell increasingly far behind 1999 or 2007 levels.
The GOP was able to blame the economic failures on tax increases, misguided public spending, and excessive regulation.
Indeed, Republican economic pessimism was catnip for the electorate in 2010. And it appeared to work well again in 2014. Although it was less successful with the minority- and Millennial-rich electorate of 2012.
Whether it works again in 2016 depends on how credible pessimism appears, and how fearful the electorate is of their jobs and living standards.
Sunny Skies Expected
Now, if the market continues serenely upwards until November 2016 – with the S&P 500 Index reaching 2,400 by Election Day based on recent trends and unemployment falling somewhat further to perhaps 4.5% – Republican pessimism will seem delusional.
The economy will have expanded for seven full years. We'll have attained full employment. Living standards will probably have ticked up a little. And consumer confidence will be at its highest in over a decade.
Any economic defects of appalling productivity growth and infinitesimal saving will seem mere nitpicks.
Absent a major scandal, Hillary Clinton – or any other plausible Democrat candidate – should win without breaking a sweat.
That being said, this sunny prognostication is not at all likely.
To get there, the S&P would have to climb 60% above its 2,000 peak. And the economic expansion would have lasted for 89 months, ranking it with the record-breaking expansions of the 1980s and 1990s.
You can see how overvalued the S&P would be by comparing it to its level in February 1995, when Alan Greenspan first loosened monetary policy. At that point, the S&P 500 Index stood around 490 – not a bear market level, since it was already 50% above its peak level before the 1987 crash. Let's consider that market as about an equilibrium level before "funny money" took over.
Since then, nominal GDP will have increased by 153% to the fourth quarter of 2016 (assuming a brisk 4% nominal GDP growth in 2015 and 2016).
Applying that percentage uplift to the 1995 stock market gives a 1995-equivalent S&P 500 Index level of 1,243 in November 2016. That's about half the actual level.
Waiting for the Bullet
A stock market that's trading at double its equilibrium level is risking a big crash. And the leverage in the U.S. economy hugely increases the likely size and scope of that crash.
While companies aren't overleveraged, they've been buying back their stock. So they're not as cash-rich as they appear.
Investment institutions such as hedge funds and private equity funds, on the other hand, are highly leveraged. And further hidden leverage is inserted into the system through the derivatives market.
Then you have the tech sector, full of companies on valuations of $10 billion or more that are still losing money.
Historically, asset bubbles fueled by too-easy money crash painfully. It's been true ever since the South Sea Bubble and Mississippi Scheme of 1719 and 1720.
The only question is not whether a crash will occur or how big it will be… but when it will happen.
Given that such a large crash would cause the economy to implode (at least temporarily) and will blow out the U.S. budget deficit, there's simply no question that it will determine the 2016 election.
Again, if it happens before November 2015, Republicans can repeat what the Democrats did in 2008. The GOP will be able to blame all the pain being inflicted by the market crash – and the fears of how much worse it could get – on the policies of the preceding eight years.
It would be a certain GOP victory. But, as I said, it's Russian roulette.
The frothy stock market will cause a crash big enough to form a bullet, fatal to whoever is in power when it's fired.
And if the Republicans feel guilty for hoping the crash comes before 2016, there is this consolation for them: If the crash happens between 2017 and 2020, it would be even bigger – and certainly fatal to Clinton's 2020 re-election chances!
Good investing,
Martin Hutchinson
| | |
| --- | --- |
| | For 27 years, Martin Hutchinson was an international merchant banker in London, New York, and Zagreb. He ran derivatives platforms for two European banks before serving as director of a Spanish venture capital company, advisor to the Korean company Sunkyong, and chairman of a U.S. modular building company. Learn More >> |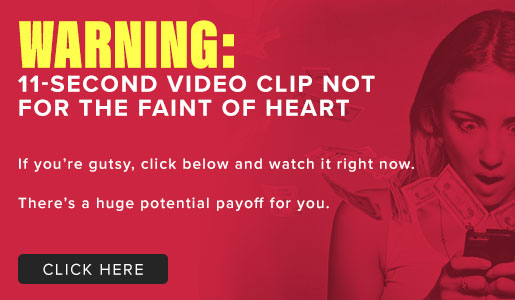 Comments (1)