On Tuesday, I explained how and why the BRIC countries – Brazil, Russia, India, and China – are in trouble. These four emerging markets, rich in labor and physical resources, used to be on the brink of expanding their economies in a major way.
But the current economic climate has dampened that hope for the majority of those countries.
However, as I pointed out, India is keeping the dream alive. It's the only country of the four with a gross domestic product (GDP) that's continued to expand over the last two years.
I've spent a lot of time in India over the past 20 years. And each time, the country has impressed me with its growth potential, only to then disappoint because of a bureaucracy that has tamped down business opportunities with red tape, incompetence, and self-dealing.
But it looks like that's all going to change. The newly installed government of Prime Minister Narendra Modi has a simple agenda: Make India grow.
And the anticipation has already increased valuations in the stock market by billions!
The State of the BRIC House
As you can see from the chart below, only India's GDP growth rate grew last year.
Russia will actually contract, despite what the chart shows, as the effect of lower oil prices wasn't completely factored in at the time these prognostications were made.
And China, while experiencing impressive growth initially, declined in 2014 and will continue to do so in 2015. The country needs to address the consequences of an overheated economy, which led to artificially high real estate prices and bad loans in every strata of the economy. China's exports are weak, too, and the country will look to stimulate its economy if the growth rate falls any further.
India, however, is on an upward trajectory. And that could mean some unexpected gains from the Indian rupee, which collapsed over the last few years.
A few companies, like tech giants Infosys (INFY) and Tata Motors (TATA), have been perennial performers in the market. But for the most part, the unpredictability of the Indian market has prevented most businesses from expanding into the country.
However, Modi has a track record of success. And his sometimes nationalist party, the Bharatiya Janata Party, has something to prove after finally gaining power in a system that's been dominated by the Congress Party and its Gandhi dynasty.
During his tenure as the Chief Minister in Gujarat, Modi's leadership and economic reforms made the Indian state a powerhouse and the recipient of billions in foreign investment. The result was more than 10% annual growth while the region was under Modi's stewardship.
It wasn't without incident or controversy, however, as conflict between the majority Hindus and minority Muslims boiled over frequently into violent confrontations. But that has subsided significantly as growth and diplomacy took center stage.
Now, Modi's focus is set squarely on stimulating growth.
That spells opportunity for investors willing to forget the country's unpredictable past and bet on the resurgence of its growth.
A Little-Known Investment
Modi is clearly working to invest in the country's horrific infrastructure, loosen restrictions on foreign direct investment, and reduce the bureaucratic red tape that often dissuades investors from taking India seriously.
The Indian stock market has taken off, as a result, with valuations increasing by more than $400 billion or 41% since the announcement of Modi's candidacy.
To give you some perspective, that figure is less than the market capitalization of Apple (AAPL). However, it's a huge move for a market that has about $1.8 trillion in GDP. And like Apple, the Indian market has huge long-term potential (if growth were to increase).
For now though, playing the Indian stock market is overdone and very expensive. In my opinion, investing in India's currency, the rupee, is a better move, and it's one many investors are failing to pay attention to.
The rupee currently buys half of what it did a few years ago; the monetary stimulus forced a self-devaluation of the currency. But because of Modi's agenda, the rupee is set to rally, and the potential for strong economic growth will attract new money.
That influx of cash will eventually affect the rupee, and that's where your focus should be if you're seeking a lesser-known avenue into this resurgent market.
One way you can get exposure is through the Wisdom Tree Indian Rupee Strategy Fund (ICN).
India is poised to be the fastest-growing major emerging market, possibly outrunning the growth of China over the next five years. Cheap oil, cheap labor, an educated work force, a growing middle class, and an undervalued currency are factors that'll propel the economy higher.
This is an opportunity that definitely requires your attention.
And the chase continues,
Karim Rahemtulla
P.S. Today, America is on the verge of energy independence. And there's no doubt that it will lead the way for growth in the next decade. But is that enough to launch the country into a new Golden Age? That's the question Wall Street Daily's Chief Resource Analyst, Karim Rahemtulla – along with over two dozen top investment experts – will answer this coming March in St. Petersburg, Florida. The Oxford Club's 17th Annual Investment U Conference will be held there from March 11 to 14. Click here now for the details.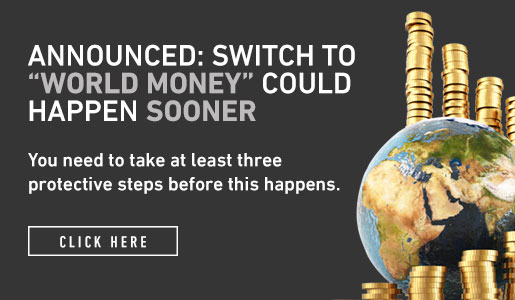 Comments (2)