As global commodities prices plummet, it's incredibly convenient to pronounce the commodities super-cycle dead, isn't it?
Yet banks from Goldman Sachs to Citigroup to Deutsche Bank are on record as saying it's over.
The Rogers Commodities Index, which represents the value of a basket of 36 commodity futures contracts, is down 20% since mid-June.
But does incredible opportunity lie among the carnage?
Well, I asked the Founder of the Index, celebrated hedge fund manager and bestselling author, Jim Rogers.
Jim was born just a stone's throw away from Wall Street Daily's headquarters in Baltimore, Maryland, and I get smarter every time I speak to him.
To listen to Part One of my interview with Jim, click the image below.
Robert Williams
Founder, Wall Street Daily
P.S. In Part Two of my discussion with Jim Rogers, we discuss the most hated market in the word – along with one stock that's defying gravity right now. Click here to listen in.
Interview Transcript
Robert Williams: Hi, there. Robert Williams here. I'm grateful to have as my guest today, Co-Founder of the Quantum Fund and bestselling author, Jim Rogers. Jim is a man whose opinion I hold in the highest regard, so I try to have him on at least once per quarter so he can share his wisdom directly with our readers. Welcome to Wall Street Daily, Jim.
Jim Rogers: I'm delighted to be here. Are you kidding? This is fun.
Robert Williams: Jim, let's start with the commodities super-cycle. I'm hearing a lot of chatter that it's over. Of course, that's a convenient argument to make while prices are falling, right? I know you don't agree, but tell us why.
Jim Rogers: Well, I don't. I certainly see that. I hear and read the same thing you do, and to me, I'm delighted to see it because it's the kind of talk that you hear – you don't hear it at tops. You hear it at bottoms. Whether this is a bottom or not, I have no idea. I do know that I don't see enough new production, permanent new production, coming online to change the supply/demand dynamic over any longer period of time.
As you know, all the major oil fields in the world are in decline, except for the shale boom in the United States. But everything else has declining reserves and we still aren't replacing those fields anywhere else. Likewise, with agriculture, I mean the average age of farmers in America is 58. In Japan, it's 66. In Canada, it's the oldest in recorded history. In Australia, it's 58.
And more people in America study public relations than study agriculture, so the basic fundamental problem in agriculture still exists. We had a good crop this year, no question, but one year does not a swallow make. You probably remember during the big bull market in stocks from 1982 until 2000, we had many, many big corrections in stock. 1987, stocks went down 40 to 80%. 1990, 1994, I mean, you remember some of those major declines. They were not the end of the bull market.
So in my view, I don't see the supply yet that can cause a permanent change in the supply/demand. Certainly, stocks are down – I mean, sorry – prices are down, but in my view, it's not over yet, except for some things. Iron ore is probably going to stay down for a long time because so much production came on stream, but iron ore is not in the indexes because there's not a public market.
Likewise, palm oil may have long-term problems, but most don't.
Robert Williams: Jim, are there specific commodities in which you are most bullish? For example, I know the base metals are at multi-year lows with copper having just crossed the key $3 level on the downside. Precious metals are down, too. Should we be looking to other commodities for better returns?
Jim Rogers: I'm certainly more bullish on agriculture than anything. Agriculture prices have done nothing for years, many years. I have the Rogers Agricultural Index, Rogers Commodities Indexes. The Agricultural Index is below where it was in 1998. In fact, it's down like 25% from 1998.
So that's not a lot of optimism, – people have been rushing out, getting delirious about agriculture prices. So I'm more optimistic about agriculture than other things.
And as far as metals are concerned, I'm not buying gold or silver at this point. I own gold and silver, and I'm not buying more. I expect a better opportunity to buy sometime in the next year or two, but – I'm more optimistic about agriculture than everything.
Robert Williams: Jim, what's the most effective route into agriculture for our readers interested in playing this long-term bull market?
Jim Rogers: Well, there are many ways to do it. The best way is to buy a farm, become a farmer if you really want to get rich because, I explained before, some of the serious, serious, key fundamental problems in agriculture. So if you like the outdoors, if you think you'd be good at it, you might consider becoming a farmer.
Now most of your readers are probably not going to become farmers, but that's the way. Or buy a farm and lease it to a farmer, somebody who's competent. You can buy stock. Certainly, you can buy stocks. If you buy the right stocks: seed companies, fertilizer companies, or whatever – you'll make a lot of money.
You can buy countries. Some countries are more agriculturally oriented than others. You know, Pakistan is a country that lives and dies on cotton more than anything else. So it depends on the country.
If you're going to buy a lake house, I would buy my lake house in Oklahoma, not in Massachusetts, because stocks are at all-time highs. We just discussed what's been happening in commodities, so lake houses in Oklahoma or Nebraska are probably a lot cheaper than in Massachusetts. You can get the Lamborghini dealership in Iowa because the farmers are going to be driving Lamborghinis, in my view, in the future.
Or you can buy – for most people, obviously the best way is to buy an index. Many studies have shown that index investing is far and away, the best way to invest in anything: stocks, bonds, currencies, commodities, anything else. And there are plenty of exchange-traded products where it makes it very easy these days to invest in commodities.
Robert Williams: Well, Jim, thanks again for your time this morning. I really enjoyed it. I hope you had as much fun as I did.
Jim Rogers: Well, I always do. You guys are always a lot of fun and insightful. That's when it's a lot of fun. Let's stay in touch.
| | |
| --- | --- |
| | In addition to once being a full-time trader of equities and equity derivatives, Robert has also served as the lead financial analyst for a Forbes top-50 private corporation and as an analyst for an institution whose endowment is among the largest in the world. Learn More >> |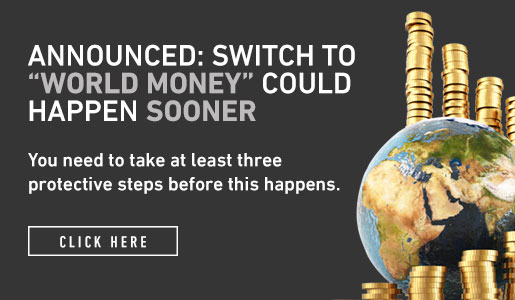 Comments (3)