Most people have at least one or two vices…
Some like to break rules. Others can't say no to a chocolate bar.
But no matter what vice you might have, you can bet there's a company ready to profit from it…
Indeed, many bad habits can be highly lucrative. For example…
Tobacco: According to Ash.org, there are around 1.1 billion smokers in the world, with the industry pocketing over $660 billion in annual sales.
Alcohol: MarketLine says the global alcohol industry will rake in $1 trillion in revenue this year.
Casino Gaming: An Oxford Economics study released last week shows that gaming is a $240-billion industry in the United States. Taxes on the industry alone dump $38 billion into federal, state, and local coffers.
In light of this new research, I thought I'd run this Canadian company – one of the gaming industry's biggest players – through my C.H.A.O.S. stock screener to see if its investment merit matches the industry's potent sales…
Let's Go Gambling
With a market cap of $4.1 billion, there's no doubt that Canada's Amaya Gaming Group (AYA.TO) qualifies as a big player. It designs, sells, and distributes its interactive gambling technology to the global gaming industry – including software platforms, games and systems, slot management systems, vending machines, and more.
~Cash
Talk about a discrepancy…
While Amaya has significantly less revenue and net profit than its peers, the stock has demolished the Toronto 300 Composite by roughly 300% over the past year, and by 380% over the last six months.
How has the company achieved this?
Well, while it generates much less revenue and profits than other companies, it earns far more with the money it does pull in – as evidenced by its 16% profit margin and 13% return on equity.
However, its valuation metrics are very high, which suggests that the company is significantly overpriced at the moment.
C.H.A.O.S. Meter: 15/20
~High Impact
Amaya offers an extensive library of over 400 technology-based gaming solutions for the regulated gaming industry, with its lottery and poker segments offering the widest competitive advantages to businesses.
For example, in both the online and brick-and-mortar gambling worlds, it provides games like Texas Hold 'Em, BlackJack, Roulette, Baccarat, Omaha, Seven Card Stud, Horse, and slot machines.
In addition, the company's subsidiary, Diamond Game, also creates lottery-themed games and systems. Its biggest advantage here is a well-established reputation with organizations and local governments.
The company operates within government-sanctioned markets, such as authorized physical casinos, online casinos, hotels, and cruise ships.
The online aspect is particularly important, given that ex-president, George W. Bush, abolished online gambling in the United States, and only certain states have been re-authorized (Nevada, New Jersey, and Delaware). More importantly, the Bush regulations drove well-established and highly popular games like PokerStars and Full Tilt Poker from privately held Oldford Group, the parent company of Rational Group Ltd.
This is a major competitive advantage for Amaya…
You see, while there are countless online poker games, gamers are restricted to using "play money."
Not Amaya.
In fact, Amaya developed the world's first real-money mobile poker app. And it's now offering developers the ability to tap into its network, where real-money mobile gambling transactions are approved, so they can integrate that service into their apps. That consequently creates a consistent stream of licensing revenue.
Needless to say, this has a huge impact on the mobile gaming and digital gambling industries.
C.H.A.O.S. Meter: 18/20
~Acceleration
When you take a look at Amaya's chart, you'll notice that having crawled along for several years, it exploded higher at the beginning of this summer…
That accelerant was the purchase of Rational Group and its well-known brands of online poker platforms.
Amaya shelled out $4.9 billion to buy the company in an all-cash deal. An all-star roster of banks and investors – like Blackstone, Barclays, and Deutsche Bank – helped finance the deal or bought Amaya shares. As a result, Amaya's stock became much more valuable.
However, there's a big potential anchor in the shape of Sheldon Adelson. He's CEO of Las Vegas Sands (LVS) and one of the richest guys in Amaya's industry. He also happens to be a huge opponent of online gaming.
If he's able to influence legislation in some of the states where Amaya is looking to offer real-money online gambling (and he's actively trying to do just that), you can expect Amaya shares to take a fairly large hit. At the moment, he's played a large role in delaying two online gambling bills in California from being voted on until 2015.
The impact of that news on Amaya's share price was negligible. It's the official rulings that hold the most weight.
C.H.A.O.S. Meter: 15/20
~Orders
Amaya grabs revenue from a variety of sources…
Casinos: This segment speaks for itself. It includes revenue that Amaya receives from product sales, in-casino sales and services, and product-leasing agreements.
Revenue From Product Sales: This primarily comes from Amaya's Diamond Game division, which designs and manufactures "floor-based" gaming products for casino gaming and lottery industries.
Revenue From Software Licensing: WagerLogic, another company acquired by Amaya, helps power the InterCasino Business by offering other companies an operating platform.
The company also generates revenue from contracts that include fees for licensing, training, installation, consulting, maintenance, and periodic upgrade charges. At the end of 2013, revenue from this segment rose by $11 million, to $77 million.
Product sales and software licensing revenue also rose, but its casino-hosting segment saw a drop.
C.H.A.O.S. Meter: 15/20
~Scalability
Due to its highly competitive nature, the gaming industry tends to see plenty of consolidation.
But Amaya is not a takeover target… it's a buyer. That's evidenced by its list of acquisitions, such as Chartwell Technology in July 2011, CryptoLogic in April 2012, Ongame Network in November 2012, Cadillac Jack in November 2012, and Diamond Game Enterprises in February 2014.
Amaya finalized its purchase of the Rational Group, too.
Put together, it means the company boasts one of the largest and most comprehensive ecosystems in both the physical and digital gaming space. Its brands now include PokerStars, Full Tilt Poker, the European Poker Tour, PokerStars Caribbean Adventure, Latin American Poker Tour, and the Asia Pacific Poker Tour.
You'll note that the company now has a stronger presence in various international regions, too.
Its real-money offering is a serious competitive advantage within the explosive mobile gaming space. But going forward, Amaya will need to keep pace with new gaming technologies, and will need to hold enough cash on hand. Right now, that's not a problem, with $228 million in the bank.
The potential bad news for a company like Amaya is the tightly regulated and unpredictable landscape of its business. However, its good relationship with several local governments is a major plus.
C.H.A.O.S. Meter: 18/20
OVERALL C.H.A.O.S. RANKING: 81/100
Final Verdict: Is Amaya wreaking chaos in the gaming industry? Not quite. And that's largely due to the fact that its technology isn't really that unique.
Investment-wise, though, the stock is attractive… but with a caveat.
In the near term, Amaya's median price target is around $33 to $35 – a gain between 6% and 12% from current levels. My aggressive near-term target pegs Amaya closer to the $40 range – up 28.5%.
However, there's more near-term downside risk than upside at the moment.
The bigger picture is a much different story, though. With the purchase of Rational Group, Amaya has set itself up for abundant growth. Last year alone, PokerStars had 85 million registered users, $1.1 billion in revenue, and over $400 million in cash flow.
Keep in mind that Amaya is up over 340% year-to-date. I'd wait for its inevitable cooldown before pulling the trigger on shares.
On the options side, though, consider the April 2015 $36 calls. Contract volume has jumped significantly.
Your eyes in the Pipeline,
Marty Biancuzzo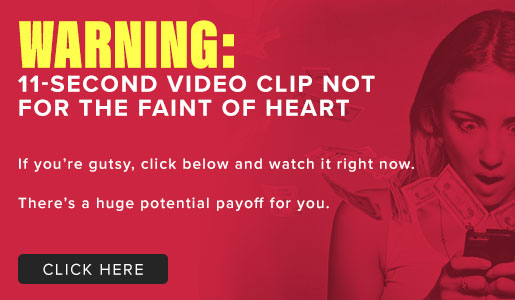 Comments (2)