When you look out the windows at the Sprott Inc. headquarters in Toronto, the world takes on a golden hue.
Not just because the building houses some of the top gold investors in the world… but also because the windows themselves are actually laced with solid gold!
They were originally installed back when the government had a cap on the precious metal's price, so there's about an ounce of gold mixed into each window.
Of course, now that gold is more expensive, each time a window needs to be replaced, it's escorted by guards in a Brink's armored truck.
It's a fascinating example of how quickly the gold market has climbed. But it's nowhere near as interesting as what was just discussed behind that golden glass a few days ago.
In the end, this opportunity could mint more millionaires than Alibaba (BABA) and Facebook (FB) combined!
Golden Opportunity Knocks
Karim Rahemtulla and I recently had the privilege of meeting with three of the top precious metals investors in the world – Rick Rule, John Embry, and Eric Sprott…
All three of them see an imminent rise in the price of gold. And with a track record like theirs, you'd be silly not to pay attention to their insights.
You see, gold prices have been in a downward spiral for the past two years – and have just broken below the $1,200 support level at which much of the miners in the industry base their operations.
At the same time, however, the costs of extraction have remained relatively constant, especially over the course of 2014 (right around $1,350 per ounce, according to Reuters).
Now, you don't need a mathematics degree to see that this trend is unsustainable…
These miners can't keep spending more to extract the metal than they can get for it on the open market. Eventually, they'll need to reduce (or even suspend) extraction operations.
When that happens (because it's no longer a matter of if), demand for the precious metal will begin to outstrip supply, and the principles of economics dictate that the price will increase as more investors are bidding for less material.
Karim discussed this situation last week, as well.
And while neither of us necessarily agrees with the gold bugs that this is going to happen in the short term, I do agree that it's inevitable and the current prices are unsustainable.
As such, when miners with more expensive operations and higher extraction costs drop out of the game, we're likely to see the spot price increase as stockpiles dwindle.
Like Chief Investment Strategist for Sprott Inc., John Embry, said, "I don't know if it'll be this week, next week, next year… But it's going to happen."
Now that gold has broken below $1,200, we could be looking at more downward movement in the near future. But we can be relatively certain that it won't fall much more.
In order to get an even deeper understanding of the current market, I gave our friend (and precious metals trader) Richard Checkan a call. Richard is President and COO of Asset Strategies International, and we wanted to pick his brain and get an inside look at precious metals from someone in the trenches… Check out this brief video to hear what he had to say:
(If you don't already have a hard assets broker, Rich can be reached directly. You can either call him at 877.340.2252 or email him by clicking here.)
I like to stress that nobody can accurately time the market – and if anyone tells you they can, they're either lying or crazy. However, what I do believe in is dollar-cost averaging (DCA)…
And I'd say that if you're interested in making a play on gold while prices are depressed, DCA would be the way to go.
You're not going to be able to catch the absolute bottom. If you buy on a dip, though – and continue to add to your position on subsequent drops in price – you'll get that average cost down very close to the bottom. That will maximize your gains when the price heads back up.
There are several ways to play the beaten-down precious metal, too…
Getting in Ahead of the Coming Rush
Besides buying physical gold, you could opt for ETFs like the iShares Gold Trust (IAU) and SPDR Gold Trust (GLD), as well as the Sprott Physical Gold Trust (PHYS) – administered by the same masters I had the pleasure of speaking with last week.
All three seek to replicate the movement in the price of gold, and hold the actual metal to back up the shares.
You can also look to the gold miners to make a play on the eventual increase in gold prices…
The big fund in this field is the Market Vectors Gold Miners ETF (GDX), which bases its holdings on market cap. That is, the biggest miners by market cap are the biggest holdings. But this isn't necessarily a good thing. A company can be over leveraged (too much debt) or can have too little free cash flow or cash reserves – yet it could still hold a place of esteem in this fund.
That's where our friends at Sprott come in.
They've built a better mousetrap that takes into account fundamental weaknesses in the gold mining companies and penalizes their allocation in the mix… It's called the Sprott Gold Miners ETF (SGDM). The fund has outperformed its larger cousin, GDX, since inception earlier this year.
Now, if you're interested in more insights that the gentlemen at Sprott have to offer, they informed me that their next Precious Metals RoundTable webcast is airing this afternoon. And they gave me a special link to send out to Wall Street Daily subscribers that will give you free inside access.
Just click right here to register, and you'll be all set to tune in.
That's it for now, but I'll be in touch soon with more valuable information from my meetings with the Sprott brain trust in the coming weeks.
Here's to buying low and selling high,
J.W. Langford
Senior Analyst, Wall Street Daily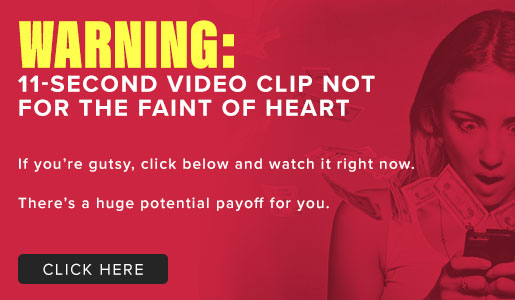 Comments (2)