Technology has always solved many of man's problems, and is advancing our world in some astonishing ways.
But now, tech faces its toughest challenge yet…
Curing death.
In other words, achieving immortality.
Sounds utterly outrageous, right? Or the plot to a damn good movie.
Both, actually.
Last night, I watched the movie Transcendence, which tackles the concept of "singularity" (i.e., the literal combination of technology and human biology).
In the film, Johnny Depp's character, Dr. Will Caster, is a scientist who's broadening the horizons of artificial intelligence to the point of singularity. Or, as he calls it, "transcendence" – the uploading of a human brain to a supercomputer.
Yes… you read that right.
However, not everyone is thrilled…
An activist group puts an end to this work by putting a bullet in Dr. Caster.
But instead, Caster's death is the catalyst that starts human transcendence.
Pretty wild stuff, huh? Luckily, it's just a movie. Or is it?
An incredible project called the "2045 Initiative" is quickly broadening the horizons of artificial intelligence. Its purpose?
To make humans immortal.
Yep… immortal.
A Modern-Day Nostradamus
Transcendence, or singularity, isn't actually a new concept. It's a 30-year-old thesis, popularized by American inventor, scientist, author and "futurist," Ray Kurzweil.
Kurzweil is known for many things. For example, he invented the first commercially marketed speech recognition technology, along with the first music synthesizer – the Kurzweil K250.
But besides his inventions, Kurzweil is also notorious for his Nostradamus-like technology predictions.
For starters, in his 1983 book, Technologies of Freedom, he predicted that technologies like cellphones and fax machines would take down authoritarian governments and be the ultimate demise of the Soviet Union. He was right.
And in his 1990 book, The Age of Intelligent Machines, Kurzweil predicted the internet as we know it today.
So the guy has a decent track record.
But Kurzweil's most recent prediction has left many people (even some of his most devout fans) thinking he's a crackpot…
Want to Really Know How Someone Else Feels?
Put simply, Kurzweil believes that as technology evolves, we'll see an advanced form of nanotechnology that will cohesively interact with the human brain, almost like a giga-brain cell.
This will give humans the ability to upload information and intelligence directly into the mind. We'll be able to learn new things in the blink of an eye and engage with one another like never before.
In fact, Kurzweil believes that since we'll be able to upload life experiences (i.e., feelings, senses, emotions, etc.), the nanotechnology of the future will be so powerful, it will take humans on virtual reality tours through the subconsciousness of other humans.
In other words, you'll literally be able to walk a mile in someone else's shoes.
When will all of this happen?
Coming in 2020: Brain Simulation
Kurzweil projects that by 2020, we'll have computers powerful enough to simulate a substantial portion of the human brain.
So how do we "simulate" human brain function?
Scientists and mathematicians have discovered a correlation between brain activity and math. They've learned how to represent brain activity with written mathematical expressions.
Engineers can then translate that equation into written code, which converts brain functionality into algorithmic software that can mimic a portion of the brain wherever it's installed.
And Kurzweil says that one day, this software will contain our emotional intelligence, too, in an effort to extend human life expectancy.
I know what you're thinking. It all sounds pretty far-fetched, right? Not so fast…
The Immortal Avatar
Russian businessman, Dmitry Itskov, is a lot like Johnny Depp's Dr. Will Caster character in Transcendence.
Itskov has started the "2045 Initiative," which, like Caster's system, is quickly broadening the horizons of artificial intelligence. Its purpose?
To achieve human immortality.
How? Simple…
Itskov, along with over 100 scientists, wants to transplant human consciousness (personality and all) into the head of a robotic body, or an "avatar" – hence his company's name: Immortal Avatar.
Here's how it works…
It starts by creating a robotic body – perfect in appearance, beyond the movements and functions of the human body – and so strong, it's virtually indestructible. The only thing missing is a brain.
That's where we come in…
Itskov and his team will extract your brain tissue (neuron by neuron), duplicating each neuron with a transistor. So essentially, every neuron will be cloned.
Next, sections of the brain will be removed and replicated in the same fashion. Oh, and we'll be fully conscious during the entire process!
In the end, an exact replica of your brain will be identically recreated and physically transplanted into a robotic body.
And in this new, avatar-like body, humans will be able to reach far beyond the limitations of today's man.
For example, we'll be able to live for hundreds of years, survive stronger impacts, resist the deadliest of diseases, and swim deeper than ever, too, as our new bodies will withstand the pressure.
Who knows, we may even be able to fly.
Needless to say, it's a highly ambitious project. And like Kurzweil, Itskov has laid out a definitive timeline for the 2045 Initiative…
The mind-blowing upshot of this is that you'd wake up and see your "old human body" lying on the floor next to you.
Now, you might wonder whether a transistor-created brain will really be you.
Itskov and countless other scientists say, "Yes."
But in case they're wrong, researchers at Caltech are working on a backup plan…
They've discovered where memories are stored inside the brains of mice – and discovered how to store those moments on a microchip.
So if Immortal Avatar's "personality transplant" doesn't bring back the full "you," there's a memory microchip to fall back on.
Technology: Good or Evil?
Technology has always affected life. But today, the debate over its reach is larger than ever.
The idea that our consciousness can be preserved and transplanted after we die is – depending on how you look at – either extraordinary and compelling, or sacrilegious and scary. But doing so would at least end the pain of losing our loved ones.
Which begs the question: Is technology advancing for the betterment of mankind, or its detriment?
We'll find out in 2045…
Your eyes in the Pipeline,
Marty Biancuzzo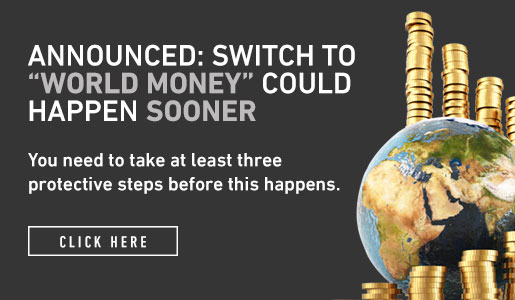 Comments (7)