The market for rare earth metals represents the ultimate paradox.
Rocketing prices a few years ago sent manufacturers scrambling for lower-cost alternatives, causing the bottom to fall out of virtually every rare earth mining stock.
The weakest junior miners were forced to shutter their doors.
But a 60% spike in praseodymium prices is a surefire signal that demand is back.
Hold your applause, though…
While much higher prices make the handful of surviving rare earth explorers immensely attractive, another pricing panic could simply lead to demand destruction all over again.
Well, one company has it figured out.
Shares are ready to explode on increasing demand, and its mines are cost-sensitive enough to compete in places where others cannot.
Since rare earth metals have no correlation to stocks, their diversification properties make them a "must have" in any portfolio.
Rare earth metals include lanthanum, cerium, praseodymium, neodymium, promethium, samarium, europium, gadolinium, terbium, dysprosium, holmium, erbium, thulium, ytterbium, lutetium, scandium and yttrium.
Intense demand is being driven by tablet computers and smartphones… wind turbines… and even the batteries in plug-in vehicles.
I asked Wall Street Daily's Chief Resource Analyst, Karim Rahemtulla, to file a full report on this important sector, and to reveal the ticker symbol of our favorite miner.
Onward and Upward,
Robert Williams
Founder, Wall Street Daily
Transcript of Interview:
Robert Williams: Okay, I have Wall Street Daily's Chief Resource Analyst, Karim Rahemtulla, with me. Welcome, Karim.
Karim Rahemtulla: Thanks, Robert.
RW: Karim, our readers have already read my take on the rare earth metals market, but I want to know your take. Where do we sit right now?
KR: Well, you know, we're in a very interesting position right now because the rare earth market has pretty much collapsed over the last three or four years… actually, up until maybe the beginning of this year, end of last year. And that was due to two factors. One was the worldwide economic collapse – I guess we can call it that – that reduced demand for a lot of these materials. And the second thing was the actual pricing of these materials. Some of these materials had gone from $118 a kilogram, up to like $2,600 a kilogram, because there was so much perceived demand in the mid-2000s, and this perceived demand, a lot of it was real, but it wasn't real enough to support these prices.
This time, the demand came from the new generation of products that we're seeing out there. Everything from better catalytic converters to better lighting to iPhones, iPads, iTouches… all these types of miniaturized equipment that require these rare earth metals and compounds, not only in the process of developing better components, but in order to increase the efficiency.
You know, a good example is lighting. Going into much more efficient lighting requires the use of these phosphors – which are rare earth metals – that make lighting much more efficient, and all the lighting is heading in that direction right now. So, you know, the rare earth materials market is actually on the cusp right now of coming back to life. And this could be a very, very interesting next few years, and there are a lot of other implications both political, because China is a huge producer, and also economic, because the U.S. and the rest of the world are huge consumers.
RW: Okay, Karim, so we're both bullish on the rare earth metals market. Get our readers up to speed on what the primary metals are in this niche.
KR: Well, there are a bunch of metals, and you know – I can give you 500 different names that probably I couldn't pronounce, you couldn't pronounce, and nobody else could pronounce. But the ones that are really, really important are the ones that are used in four major components, and the first component is pollution control. That's really big. And you've got these in the catalytic converters also for green energy technology, and hybrid cars. An average hybrid car has 28 kilograms of rare earth metals in it. That's huge.
You know, you're also looking at medical technology. The average MRI machine has 700 kilograms of rare earth metals in it. So I mean, rare earth metals can be defined as something that's very rare to something that's just rare. But when you look at the things that are out there, lighting is another good example, and technology to make components much sharper. For example, the speakers in an iPhone or an iTouch, you know, these things use rare earth metals to allow them to have the clarity they do in the miniaturized form that they have.
RW: So Karim, tell our readers, is this something you're behind? In other words, should every portfolio have some exposure to rare earths right now?
KR: I think this is actually a great time to be investing in this rare earth sector, because it's been beaten down so much that you're getting companies out there that offer terrific valuations. Mind you, this is a speculation, and I think it's a great speculation. There are companies out there that are trading at 10 or 15 or 20 times the current price right now at the peak of the rare earth metals market and boom. And these things are all the way down, along with a lot of the mining stocks.
A good example is a company like Molycorp. (MCP) It's a speculation right now, but to me, it's a really good speculation. You're down from trading multiples of where it is today. It's trading around $2.75 today. It was paying way, way higher than that during the boom. They've gotten through some issues. They've had supply issues, they've had mine issues, they've had financial issues raising capital. But these are things that could be in the past. And if we go back to a boom in the sector – which we should be heading towards as economies improve globally – then we can see companies like that increase in value, you know, several-fold.
RW: Karim, are these companies correlated to the other returns of the market, or are they kind of pegged to gold? Do they track gold? Do they track the broad market, or is this a really good way to get some diversification?
KR: Yeah, they're really not correlated at all with anything in the general market. If there is a correlation right now, it would have to be towards the mining sector, because they're performing like the mining sector is performing. But I don't know how strong that correlation is, because these rare earth minerals are not really connected to things like gold and silver. But they are connected to the mining sector, in general. As far as connected to the general market overall, no, there's absolutely no correlation there, because we've seen the general market soar and these companies have come down in price significantly.
RW: Excellent, Karim, I know you track the sector on a day-to-day basis. Are you at a point where you would recommend a particular ticker symbol to our readers?
KR: Well, yeah, the one that I've been tracking for a while – and it's been going through a lot of issues, but it looks like it's getting ready to turn. There's been some insider buying in this company. It's a company called Molycorp. The symbol is MCP, M as in Mary, C as in Charlie, P as in Paul. As far as I'm concerned, it's a good speculation, and it's not one of those things where you bet the farm. But we're a lot closer to the bottom in the sector than we were to the top.
RW: Karim, thanks for your insights, as always. On behalf of Karim Rahemtulla and Wall Street Daily, I'm Robert Williams.
| | |
| --- | --- |
| | In addition to once being a full-time trader of equities and equity derivatives, Robert has also served as the lead financial analyst for a Forbes top-50 private corporation and as an analyst for an institution whose endowment is among the largest in the world. Learn More >> |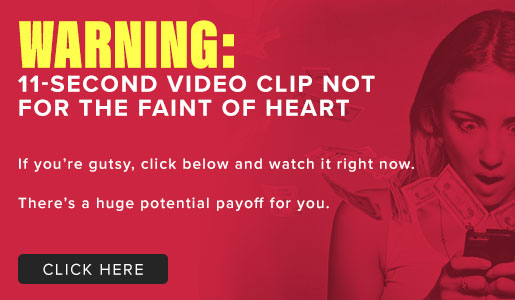 Comments (2)