Venture capitalists shouldn't own the rights to tech fortunes.
Yet they've cornered the market on profits!
To fight back, I ripped their C.H.A.O.S. Strategy straight from the labs of Silicon Valley.
Venture capitalists use adapted versions of C.H.A.O.S. to gauge the investment potential of new technologies.
Put simply, technologies that create chaos also mint fortunes for investors.
For all the details concerning my C.H.A.O.S. Strategy, click here to view my full report.
I'll ONLY recommend buying companies that score 85 or better on the C.H.A.O.S. Meter.
Reason being, historical precedence shows that these companies will 1) create so much chaos that existing industries will be forced to adapt, and 2) enjoy stock gains worthy of a king.
Today, I'm putting advanced fuel-cell technology firm, Plug Power (PLUG), to the test.
~Cash
At first glance, Plug Power's numbers seem a bit fried.
For starters, the company's cash flow statement has more red marks than a high-school dropout's term paper.
Plus, even though the company boasted $5 million in excess cash in its most recent quarterly filing, its negative 172% profit margin highlights just how invaluable that $5 million really is.
When pinned against its industry, Plug has less money to put towards business operations than 97% of its competitors. And it's in the bottom 3% of its industry when it comes to operating margin.
It's also posting triple-digit lows in return on assets (ROA), return on invested capital (ROIC) and return on equity (ROE).
Indeed, with a negative 335% ROE, that puts Plug in the bottom 5% industry wide.
After digging a bit deeper, though, I discovered that the company does sport some positive attributes.
For instance, in terms of debt to equity, Plug demonstrates a far less aggressive approach towards leveraging future growth. In fact, with only $4 million on its sheets, Plug hardly uses leverage at all.
Not to mention that if you stack Plug up against itself instead of its competitors, you can spot some undeniably positive indicators…
On a year-over-year basis, the firm has consistently reported growth in three key areas since 2009:
Earnings: up $2.27 per share.
Cash flow: up $1.93 per share.
So while the company is still operating at an overall loss, growth should never be discounted. Especially when proven consistent.
Lastly, it's important to factor in Plug's pedigree…
As an aspiring disruptor with a tiny market capitalization and a "turn around" business plan in action, it's only natural that financial risk is a part of the equation. Key word: "part."
There are several other important layers to consider, which is precisely why I created this system.
C.H.A.O.S. Meter: 12/20
~High-Impact
Let's face it…
Hydrogen fuel cells (HFCs) never have been, nor ever will be, a high-impact media sensation the way a new product from Apple (AAPL) will be.
So my approach to Plug will be identical to the way I dealt with Splunk (SPLK) in last week's column. Meaning I'll have to determine Plug Power's level of impact by assessing the dents it's already made in its niche commercial market.
Let's start with Plug's technology…
Technology
As I mentioned, Plug makes HFC technology as an alternative solution for the commercial marketplace.
What exactly is HFC technology? Well, look at it this way…
Each hydrogen fuel cell acts like a tiny wireless charger for the batteries inside electric vehicles.
Now, most people misinterpret HFC technology to be a more environmentally friendly replacement for batteries.
But HFCs don't actually replace a battery, they charge it. And continuously, too, so long as they're getting a constant supply of oxygen to help sustain the chemical reaction.
And these fuel cells are engineered so that heat and water are the only by-products emitted from the power supply.
Products
Plug currently has two products available on the market…
First, there's GenDrive, the company's suite of over 40 different hydrogen fuel cells catering to the material-handling market.
Then there's GenKey, Plug Power's all-in-one fuel and service package. It combines the GenDrive suite with the company's GenFuel hydrogen infrastructure (including Plug's proprietary hydrogen fueling dispensers) – and GenCare, a full-service customer care contract.
ReliOn Acquisition
Plug Power recently spent approximately $4 million in company stock in an acquisition deal with ReliOn Inc. – which has developed an air-cooled "stack" design that offers a simple snap-and-build assembly for HFCs, at much lower costs.
Beginning this year, Plug plans on integrating ReliOn's stack technology into several models of its GenDrive fuel cell systems. In addition, Plug plans on piggybacking off of ReliOn's success in the backup fuel cell market, with powerhouses like Verizon (VZ), AT&T (T) and Sprint (S) as clients.
With ReliOn as another weapon in its arsenal, Plug will continue to make a mark on its industry. So much so, the company believes ReliOn will start impacting its earnings starting in 2015.
Patent Protection
No matter how high-impact a product may be, companies still need strong patent protection if they want to hold competitors at bay.
Currently, Plug Power boasts a substantial patent portfolio, holding over 150 fuel cell design, dispensing, processing, control and storage patents.
What's more, Plug's acquisition of ReliOn tacks on an additional 34 fuel cell patents for its filing drawer.
High-Impact Level
While Plug's fuel-efficient commercial forklift technology is niche, to say the least, the company is hitting its industry hard with some of the most advanced HFC tech around.
The company is also scooping up its competitors and locking in patents to help build a fortress around its technology.
But the most impact I've seen Plug make, to date, is within the investing community. Its backstory and extreme volatility make the company a hot topic of debate between investors on both sides.
That being said, I don't like the $2.5-million haircut Plug made on its R&D spending last year. R&D is a vital expenditure for any high-impact technology. Especially a tech as old as Plug's.
C.H.A.O.S. Meter: 15/20
~Acceleration
One thing is certain: Plug's stock can move! Just look at its 52-week price range for proof.
What's with the volatility?
Two things…
Reason #1: Key Milestones
Plug has a few milestones under its belt already.
The first came on February 10, when Wal-Mart (WMT) signed a major deal with Plug.
Wal-Mart will be utilizing the GenKey hydrogen fuel cell, infrastructure, and maintenance package to power several fleets of electric lift trucks in six U.S. distribution centers. The rollout is expected to begin in the second quarter of this year.
The best part of this contract isn't the 1,738 fuel cell units sold, or the six-year GenCare service deal assigned to each Wal-Mart location…
It's the fact that Wal-Mart is re-committing and expanding its current contract with Plug, providing the firm with crucial validation on the world's largest stage.
This, of course, is bound to increase Plug's acceleration, as untapped areas in the industry begin adopting the technology.
The second major milestone for Plug hit on March 11, when it closed a $22.4-million registered offering of almost four million shares of its common stock. On its S-3 filing, Plug indicated that the shares were bought by a single investor – Cowen and Company, LLC – after being available for just five days.
These are two examples of how news (chiefly from CEO Andy Marsh) is quickly becoming the driving force behind Plug's upward action.
Reason #2: Share Dilution
Plug's most recent 13-D SEC filing highlights a strategy the company has been using a little too often.
Plug offers a company its preferred stock in exchange for a signed buyout deal (like it did with ReliOn). Then it lets the company convert the preferred shares into common shares, making the company a ton of money, but also diluting its common equity.
Since 2012, Plug's outstanding shares have increased by over 100,000 shares. If that's not a warning sign, I don't know what is.
It's the main reason shares have garnered an abnormally large amount of short interest. These investors could be in for a colossal short squeeze if the company turns profitable, but that's a big "if."
As it stands, Plug is only good for range trading. While it has short bursts of acceleration in both directions, it's far too top heavy to see a bullish breakout in the near term.
C.H.A.O.S. Meter: 9/20
~Orders
Within its existing material-handling market, Plug's orders are strong.
And Wal-Mart isn't the only Fortune 500 company Plug has booked orders with… There's Procter & Gamble (PG), Kroger (KR), BMW and Mercedes-Benz, as well.
Better yet, these companies are all growing their fleets and converting to cleaner, more fuel-efficient technologies. So they've all expanded their GenDrive contract deals with Plug.
To top it off, there are three addressable markets Plug is looking to break into this year:
Market #1: Range Extenders
In January, Plug closed a $3-million deal with FedEx (FDX), a project that was funded by the Department of Energy (DOE). Plug will supply FedEx with hydrogen fuel cell range extenders for 20 of its electric delivery trucks. These extenders will almost double the territory after a single charge.
The addressable market extends out to every parcel truck in the nation, not to mention other government-funded transportation systems – like taxis and USPS vehicles.
Market #2: Ground Support Equipment
In February, Marsh announced that Plug is applying its fuel cell technology to FedEx's Memphis airport ground support equipment.
Market #3: Transport Refrigerant Vehicles
Plug already has an existing forklift contract with Sysco (SYY), but the two companies are also looking to apply fuel cell technology to transport refrigeration units.
According to Marsh, this market could be larger than the material-handling market, with more than 300,000 refrigerant trucks in operation domestically.
Plug's order validations are promising for the company and its technology, as they can only lead to new contract deals within the material-handling market. Keep in mind – even though orders are strong and from large corporations, Plug has only penetrated 0.1% of the space. So there's plenty of room for growth.
C.H.A.O.S. Meter: 18/20
~Scalability
In addition to the markets mentioned above, there's another industry that Plug hopes to scale into in the near future…
Automotives.
Now, Plug already supplies the automotive market with fuel cell forklifts for their manufacturing plants.
But the company is now looking to incorporate its technology inside electric vehicles.
It's not going to be easy…
Some auto-giants are slightly intimidated by companies like Plug, and are experimenting with making fuel cell technology in-house.
Other auto companies are more open minded. They understand that conventional battery vehicles are viable short-term solutions, but HFCs are the next breakthrough in the area.
Take Elon Musk, for example…
Rumors are buzzing (and have been for some time) that Plug is in talks with Musk and his fully electric Tesla Motors (TSLA) vehicle lineup. Which makes perfect sense – Plug has the experience, and Tesla wants to "unplug" from the wall outlet.
In fact, Marsh just reported a major announcement is on the way regarding a big auto manufacturer. The date of the announcement is expected to be tomorrow.
While this is all well and good, the reality of Plug scaling into the auto market in the short term is more speculative than realistic.
C.H.A.O.S. Meter: 13/20
OVERALL C.H.A.O.S. RANKING: 67/100
Final Thoughts              
There's no question that Plug is a great company with tremendous potential. But is it wreaking chaos on its industry? Not so much.
Plug might have big names validating its technology – and it might be entering new markets very soon. But it's an insanely volatile stock, with shaky fundamentals, a speculative energy technology that's failed before, and its market is too niche to cause unbridled chaos anytime soon.
Of course, that doesn't mean you can't turn a profit. Make sure it's only as a trade, though, not a long-term hold.
Like I said, the stock reacts very positively to news from Marsh. He's scheduled to announce tomorrow and again at the end of May. Wait for rundowns in the stock for better entry points, and sell after the news.
Your eyes in the Pipeline,
Marty Biancuzzo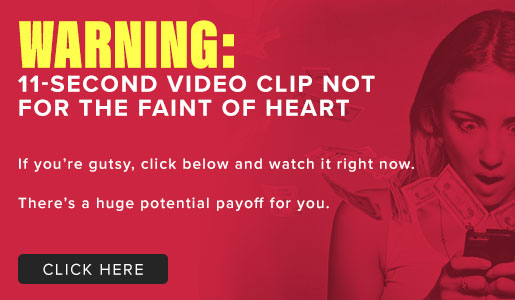 Comments (1)