Of the many things that we take for granted these days, surfing the internet is one of them.
But there's a ton of activity that goes on behind the scenes to make this experience easy and seamless (most of the time.)
Take one of the core components, for example – a domain name.
You know, addresses that end with .com, .net, .org, .gov, and so on.
As of March 10, there were 135.9 million global domain names registered, according to WebHosting.Info. And the figures show that the number of domains is rising steadily each week.
But something seismic is about to happen to the World Wide Web…
The Owner of the Internet Store
When a person or company buys a domain name, who exactly do they buy it from?
Well, for the past 16 years, one group has overseen the management of domain names…
The Internet Corporation for Assigned Names and Numbers – otherwise known as ICANN.
ICANN is a non-profit organization that assigns domain names and web addresses for the entire internet. And it's handled those responsibilities since 1998.
Before that time, the folks who helped to create the internet (not you, Al Gore) were also in charge of overseeing it. Jon Postel, a renowned computer scientist from the University of Southern California, was one of them.
Postel managed a host of functions related to internet names and addresses until he passed away in late 1998.
At that point, the U.S. government gave ICANN a contract to ICANN to manage the domain name infrastructure of the internet.
But that's all about to change…
Goodbye.com
You probably won't be surprised to learn that since its inception, the internet has undergone some heavy regulation at the hands of the U.S. government.
However, in the wake of disturbing reports that have exposed the National Security Agency's extreme surveillance measures, the Commerce Department has announced that in the autumn of 2015, it will relinquish its jurisdiction over ICANN.
More specifically, the National Telecommunications and Information Administration (NTIA), an agency of the Commerce Department, said it's transitioning the responsibility to the "global internet community."
So what does that mean?
Well, simply put, the United States will hand oversight to an undefined group of countries.
And yes… that's as ominous as it sounds…
"Very, Very Dangerous"
Former House Speaker and presidential candidate, Newt Gingrich, stated, "Every American should worry about Obama giving up control of the internet to an undefined group. This is very, very dangerous."
Why?
Well, many U.S. officials and businesses have warned that with ICANN ceding oversight, the United Nations, or governments of China or Russia, could take control.
In turn, that could pave the way for greater online censorship.
(Cue collective outrage among the internet's founding fathers.)
This is important, because in 2012, Congress unanimously passed a resolution that underlined U.S. commitment to keeping the internet free from government control.
But guess what? That includes U.S. government control, too!
Free of Uncle Sam's Shackles
For years, ICANN has pushed to globalize its internet efforts without any U.S. oversight.
It's an idea that the European Commission fully supports, too – especially following Edward Snowden's leaks about the U.S. government's ruthless surveillance policies.
That globalization includes an expansion of the internet's domain name system. The group is preparing to approve hundreds of new website endings in the next year, such as: .clothing, .shop and .hospital.
It's also considering domain name expansion that will usher in new, non-English domains in a variety of foreign languages, as well as setting up new internet hubs in Singapore and Istanbul.
Industry groups have criticized ICANN's expansion program, arguing that it will increase cyber-squatting (i.e., buying and registering a domain name that includes a trademark belonging to someone else). The squatter's intent is to sell the domain to the person/entity that owns the trademark for a big profit.
One thing is for sure, though…
If the Obama Administration gives away oversight of the internet, the United States will never get it back.
The Wild, Wild Web?
Needless to say, this decision marks a dramatic change in the behind-the-scenes operations of the World Wide Web.
In the short-term, not much will change. But the bigger picture is much bleaker…
Make no mistake… this is a concession by the U.S. government that has unforeseen implications for the future – particularly if cyber warfare continues to rise.
There will inevitably be fierce debates over censorship, too.
Ultimately, a more internationally-focused ICANN will have different priorities, more people to answer to, and a wealth of as-yet undefined people affecting change over the internet as we know it today.
But enough from me…
What are your thoughts on the U.S. government relinquishing ICANN – and, in turn, oversight of the internet?
Drop us a line, or post a comment on our website. And join the conversation on Facebook or Twitter, too.
Your eyes in the Pipeline,
Marty Biancuzzo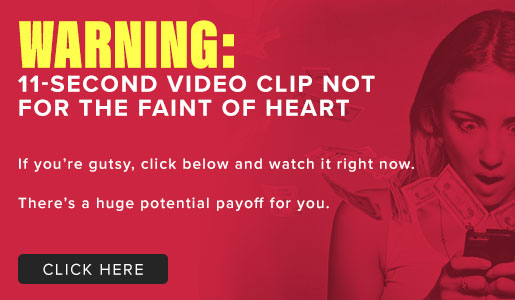 Comments (19)