With the wounds of the Great Recession still raw for every American, it's all too easy to fall into the fear trap.
Specifically, fearing that our country is just one financial and/or political misstep away from falling back into a deep, dark period of economic contraction and despair.
Don't believe the lies!
While the mainstream media tirelessly tries to paint a picture of economic fragility, we've come a long way.
Of course, such progress isn't obvious if all we do is focus on the media headlines of the day.
However, it is obvious if we step back and get a little perspective on the situation.
Don't believe me? You will once you get a load of these charts…
Bank on Fewer Failures
Driven by their insatiable greed, banks stood at the epicenter of the financial crisis. Hundreds of them went belly-up, including some of America's most storied firms.
Despite considerable regulatory reforms, most Americans still distrust banks. Moreover, they believe the banking sector is so weak, it leaves the U.S. economy vulnerable to another crisis.
Not true.
As you can see, the number of bank failures continues to plummet, dropping by about 50% each year since 2010.
In another sign of improving health, the number of institutions appearing on the unofficial list of problem banks continues to drop, too.
As Bill McBride of Calculated Risk reports, the latest list includes 685 institutions with assets of $238.7 billion. That's down from 873 institutions with assets of $334.9 billion, representing declines of 21% and 40%, respectively.
Clearly, the banking sector is on the mend. More so than most people think.
And it's not just important financial institutions showing definite signs of healing. The lifeblood of American economic growth is, too…
Hit the Road, Jack!
During the recession, the concept of a "staycation" gained widespread popularity. Many consumers were so broke, they couldn't afford to travel anywhere. So they took off work and stayed put, exploring more of their own towns and cities.
Not anymore. And the proof is in rising hotel occupancy rates…
Through September, year-over-year hotel occupancy rates rose by 5.8% to 67.8%.
Even more telling… we're actually back to pre-recession levels, which represents significant progress from 2009.
Keep An Eye on the Rails
Many economists see rail traffic as a reliable leading economic indicator. And the reason is simple: It's a "derived demand" industry.
That means rail demand occurs only as a result of demand elsewhere in the economy for the products that are transported via rail.
Lots of railroad activity indicates lots of economic activity.
Lots of economic activity gives a much-needed boost to the country's $15.68 trillion GDP.
And the latest data from the Association of American Railroads reveals that rail traffic is back, in a big way.
In fact, over the last month, we've seen the three busiest weeks for intermodal traffic volume (i.e. – shipping containers) ever.
This graph captures the progress. It shows average weekly intermodal traffic volumes.
As you can see, we're on track for a record year. And we're miles away from the anemic traffic levels witnessed in 2009.
Bottom line: Perspective matters. And now you have some.
Ahead of the tape,
Louis Basenese
| | |
| --- | --- |
| | Louis Basenese helped direct over $1 billion in institutional capital at Morgan Stanley before launching out as an independent analyst and co-founding one of the web's largest financial publishers. Learn More >> |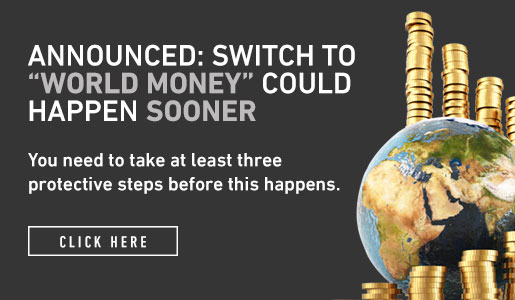 Comments (4)