At this point, we might as well relocate the New York Stock Exchange to Washington, D.C.
Why? Because instead of focusing on individual economic and corporate fundamentals emanating from the financial center of the world, investors can't stop obsessing over policy decisions being made in our nation's capital.
For weeks, investors fretted over whether or not the Federal Reserve would start tapering its bond purchases.
And now?
They're panicked (and paralyzed) by the possibility of a government shutdown, thanks to the latest partisan impasse on the budget and debt ceiling limit.
Case in point: Stocks entered Wednesday on a four-day losing streak – determined to extend it to five – as every major market index opened to the downside.
Fear not, though. We've been here before. As for the latest political impasse, it promises to be no different. (Sorry speeders. Police will still be on active duty – and using radar – during any government shutdown.) 
Here's proof – and, more importantly, how we should be responding…
All Bark, No Bite
While politicians on both sides of the aisle desperately want us to fear the impact of a government shutdown starting October 1, we shouldn't.
Why? Do you remember the fiscal cliff fears from last December?
For weeks, politicians uttered dire predictions about the debilitating impact of massive tax hikes and draconian spending cuts. A deal was struck at the last minute. No nasty side effects materialized. And, sure enough, stocks tore out of the gates in 2013 as if nothing had happened.
In short, the fiscal cliff was "a bunch of sound and fury signifying nothing," says Jeffrey Saut, Chief Investment Strategist at Raymond James. Indeed!
As for the latest political impasse, it promises to be no different.
"In spite of all the brinkmanship being talked about… there will be a deal, and then we will move on," says Stephen Massocca, Managing Director at Wedbush Equity Management.
I couldn't agree more. Not only does recent history back us up, so does the longer-term data.
A History Worth Mentioning
While a government shutdown might sound like a rare event, it's not. In fact, we've experienced a total of 17 since 1975. In other words, politicians have a history of extreme discord.
By the same token, politicians also have a history of reaching a compromise (quickly) when there's no time left to grandstand for their respective parties.
You see, shutdowns rarely last very long. Only eight have lasted more than three days. And the average shutdown duration is only 6.4 days.
What if we're in store for an outlier this time? Statistically, it's possible. But there's no real reason to worry.
For one thing, credit default swap (CDS) prices for U.S. Treasury notes aren't flashing any legitimate warning signs.
According to Bloomberg, CDS prices trade at about 23 basis points, compared to an average of 41 basis points over the past three years. If a shutdown were going to be particularly bad for the economy, CDS prices would be trending higher.
Also, we can't overlook the fact that the Fed has our back.
You'll recall, at the September 18 news conference, Fed Chairman Ben Bernanke revealed part of his reason for not tapering, when he said, "Upcoming fiscal debates may involve additional risks to financial markets and to the broader economy."
Translation: I'm here to paper over any damage politicians do by being stubborn and creating a protracted shutdown.
Above all else, though, we shouldn't fear a government shutdown, because stocks ultimately don't.
Stocks Just Don't Give a Darn
During the last two government shutdowns, the stock market didn't even flinch.
In 1995, the S&P 500 Index actually rose 1.3% between November 13 and 19. And from December 15, 1995 to January 6, 1996, the Index eked out a 0.1% gain, according to Bespoke Investment Group.
The only thing that did happen? "Volatility did pick up during – as well as after – the shutdown," says Bespoke.
In other words, temporary buying opportunities materialized in the midst of the political negotiations. And that's instructive.
It means we should treat any pullbacks on worries over the current impasse in Washington as a time to buy.
Chris Hyzy, Chief Investment Officer at U.S. Trust, agrees. "Any market drawdown would be temporary in nature," says Hyzy.
Bottom line: The biggest threat to this bull market isn't Washington. A government shutdown sounds much scarier than it promises to be. If anything, it represents a compelling time to put new money to work in the stock market.
And based on the legislation being considered to avert the October 1 shutdown, we might get another such opportunity before long. (It only funds the government through November 15.)
But don't worry. I'll serve up a friendly reminder to be greedy when others are fearful (again), as that deadline draws near.
Ahead of the tape,
Louis Basenese
| | |
| --- | --- |
| | Louis Basenese helped direct over $1 billion in institutional capital at Morgan Stanley before launching out as an independent analyst and co-founding one of the web's largest financial publishers. Learn More >> |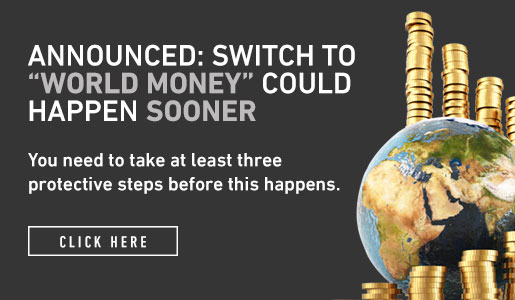 Comments (1)