Five years removed from the last financial crisis, what's the likelihood of another one gripping the world markets?
"It's a certainty," says Former Treasury Secretary, Hank Paulson. "As long as we have markets, as long as we have banks, no matter what the regulatory system is, there will be flawed government policies. Those policies will create bubbles."
Talk about a disheartening reality. Nevertheless, it's true – which means we always need to be prepared.
I began that process on Monday. But it's time to finish the job today and reveal the specifics of the next bubble being formed.
You see, we're currently seeing a rush into collateralized investments. Yet, true to form, industry insiders swear that they're "not alarmed" by this development.
Hello, McFly… anybody home?
A rush into collateralized debt obligations by unsophisticated investors contributed massively to the last crisis. So the mere mention of the word "collateralized" should put us on high alert.
After all, as Paulson said, we have every reason to fear history repeating itself. And as you'll see in a moment, that's precisely what appears to be happening…
Disaster Ahead
According to Chairman John Nelson of Lloyd's of London, ever since the financial crisis hit, fresh capital has been pouring into reinsurance "on a scale not seen before."
For those of you unaware, reinsurance is purchased by insurance companies to offset risk. And reinsurers make money when claims aren't filed during a certain period of time. For example, they stand to make a nice profit this year, since the hurricane season has been  slow.
Now, the flood of capital we're seeing isn't the problem, per se. Instead, it's the source.
That's because an increasing amount of funding is coming from non-traditional investors, like pension funds, endowments, hedge funds and high-net-worth investors.
And they have decidedly different motivations than traditional reinsurance investors.
You see, in a zero-interest-rate world, they're enticed by the 7% to 8% yields offered by catastrophe bonds. They're also attracted to the low correlation that reinsurance sports with traditional investments like stocks.
In other words, reinsurance is becoming a hot new asset class. So much so, that non-traditional (or alternative capital) funding has increased 800% since 2005. It now accounts for about 15% – or $45 billion – of the $300-billion global property reinsurance market.
So what's the big problem? Well, it's two-fold…
First off, it's unlikely that this new pool of investors understands the risks that accompany reinsurance investments. They're just chasing yield and diversification.
Underscoring this reality is the fact that the big debate at this year's annual industry conference – the Reinsurance Rendez-vous in Monte Carlo – was whether or not alternative capital represented "smart" or "dumb" money.
I'm sorry. But if you need to debate it, there are likely investors involved who don't have a clue what they're doing. That's a systemic risk, whereby capital becomes "detached from the underlying transaction of risk," as Nelson puts it.
Just like it did preceding the last financial crisis. (And that's never a good thing.)
The second problem is, the trend isn't going to reverse course.
Indeed, a report by Aon, one of the world's largest reinsurance intermediaries, says that "reinsurers have begun the process of incorporating these new capital flows… and we expect the pace of these activities to increase."
Meanwhile, Goldman Sachs (GS) estimates that alternative capital funding could top $100 billion per year in a blink. All it would take is pension funds shifting less than 1% of the $20 trillion in assets they have under management into reinsurance.
Can You Say, "Denial"?
Given the newfound popularity of reinsurance as an investment, are industry insiders overly concerned? Not so much.
"We take the inflow of alternative capital seriously," says Matthias Weber, Chief Underwriting Officer at reinsurance giant Swiss Re AG (SREN). "But we are not alarmed by it."
I wish I could say the same. But that's not possible. Especially since Swiss Re itself admits that the recent spike in alternative capital is being driven by investments in collateralized reinsurance.
Collateralizing an asset simply makes it easier for people to invest in it. And better access to a complicated financial product for unsophisticated investors is the last thing we need.
Add it all up, and publicly traded reinsurance companies promise to be the hardest hit in the end. That includes Arch Capital Group Ltd. (ACGL), AXIS Capital Holdings Limited (AXS), Everest Re Group Ltd. (RE), PartnerRe Ltd. (PRE), RenaissanceRe Holdings Ltd. (RNR) and Validus Holdings, Ltd. (VR).
Heck, they're already suffering as a result of the increased supply of capital in the industry. It's suppressing prices they can charge for reinsurance. For instance, PartnerRe witnessed double-digit price declines for the policies it renewed in June and July.
But since the situation is only going to get worse, it makes the outlook for reinsurance "less than rosy," according to PartnerRe's own CFO, Bill Babcock.
Bottom line: Forget being the "rise of a new asset class," as Goldman Sachs describes it. Increased speculation in reinsurance represents the rise of the next financial bubble.
Or, as ironic as it sounds, investing in disaster insurance could be setting up the next disaster. Beware!
Ahead of the tape,
Louis Basenese
| | |
| --- | --- |
| | Louis Basenese helped direct over $1 billion in institutional capital at Morgan Stanley before launching out as an independent analyst and co-founding one of the web's largest financial publishers. Learn More >> |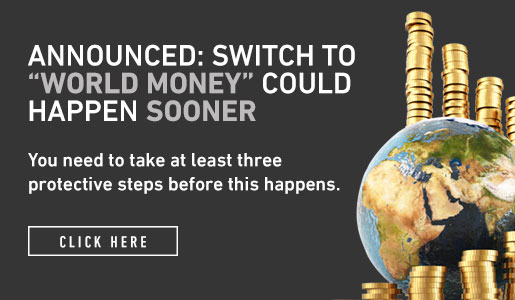 Comments (2)