While September 2013 is shaping up to be a month to remember, none of us will ever forget September 2008.
How could we? In a single month's time, the entire financial world imploded…
American International Group (AIG), Fannie Mae and Freddie Mac all needed to be bailed out by the government to survive.
Lehman Brothers collapsed… Washington Mutual declared bankruptcy… And Merrill Lynch & Co. and Wachovia were sold at rock-bottom prices to avoid the same fate.
As we all know, these unprecedented events sparked a global selloff. One that ultimately erased $11 trillion in equity values in the United States alone.
Five years later, scars remain.
Case in point: Although the S&P 500 Index has rebounded and gone on to trade at record levels, financial sector stocks remain 47% below their 2007 highs. That's more than any other industry, according to Bloomberg data.
As John Carey at Pioneer Investment Management Inc. says, "This crisis is certainly something that still troubles investors." Indeed!
What's worse, we could be on the brink of yet another collapse, according to former Treasury Secretary, Henry Paulson.
He told Germany's Handelsblatt that "the world should prepare for a new financial crisis."
Michael Lewis, author of The Big Short (which gave us an inside look at the conditions that preceded the last crisis), agrees.
When asked by BusinessWeek earlier this month if there was another threat likely to strike soon, he said, "The answer is yes, but I can't talk about it yet, because I'm in the middle of a book about it."
Way to protect your own interests, Mr. Lewis!
I refuse to be similarly selfish. So what could possibly spark the next global financial crisis?
First, let me tell you what it won't be.
The Real Threat is Never the Obvious One
Most investors fear that Wall Street banks will cause the next financial crisis. After all, at its core, Wall Street is overrun with greed. And greed can't be contained.
Sheila Bair, former Chairwoman of the Federal Deposit Insurance Corp., seems to think so, too. Even after five years of policy changes designed to rein in risk taking, she says, "Large financial institutions still have way too much leverage."
As I've shared before, though, if banks were truly a threat, credit default swap (CDS) prices would be tipping us off. And that's not happening.
Default risk for the major financial firms around the world has been trading sideways, based on Bespoke Investment Group's Bank and Broker CDS Index. Even in the face of the August selloff, default risk didn't budge, indicating that there's no imminent threat.
So what could the ultimate danger possibly be? All we have to do is follow the money.
Since 2008, fresh capital has been pouring into one industry in particular "on a scale not seen before," according to the chairman of one of this industry's most iconic firms.
So much so, that he fears the capital could become "detached from the underlying transaction of risk."
Translation: The same trap that ensnared Wall Street's biggest banks is being set again. Only this time, it's targeting a different industry.
Stayed tuned for my next column, where I'll reveal this unexpected threat – and, more importantly, the stocks we should be avoiding (before it's too late).
Ahead of the tape,
Louis Basenese
| | |
| --- | --- |
| | Louis Basenese helped direct over $1 billion in institutional capital at Morgan Stanley before launching out as an independent analyst and co-founding one of the web's largest financial publishers. Learn More >> |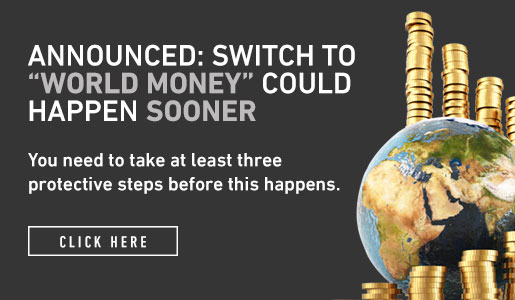 Comments (3)