Transcript of Interview:
Louis Basenese:  We're fortunate to have David Stockman with us today. He was elected as a Michigan Congressman in 1976, joined the Reagan Whitehouse in 1981, was appointed the Director of the Office of Management and Budget, and later became one of the early partners of the Blackstone Group. We've asked him to join us today to talk about, among other things, his bestselling book, The Great Deformation: The Corruption of Capitalism in America. Welcome, Mr. Stockman.
David Stockman:  Glad to be with you.
LB:   Great. Our readers have become accustomed to a very non-nonsense approach to the markets and economy, and after reading some of your book and your recent work, I'm excited to give them just that. Even if they don't necessarily agree. So the first question I've got concerns America and really the state of our economy. I recently spoke with Ruchir Sharma, the Head of Emerging Markets at Morgan Stanley, and he thinks that the 2008 crisis reshaped the global economy and set up America to really break out and have a recovery that is unparalleled. But how would you respond to that viewpoint?
DS:   I think that's wishful thinking –  fantasyland. The crisis of 2008 was just a symptom of the drift towards status economic policy worldwide, dominated by central banks – who manipulate all financial markets, repress interest rates, undermine price discovery in all of the capital markets and especially the stock market, countries all of which have become one way or another addicted to Keynesian fiscal stimulus. And as a result debt levels, sovereign debt levels worldwide are rising to a dangerous level in practically every country, including ours.
So therefore I think we have worldwide a huge financial bubble fueled by out-of-control central banks, fueled by fiscal policies that aren't sustainable. And there will be a day of reckoning, and it will be worldwide, and there's no way that we will dodge the bullet here. Because we're probably the chief sinner among the lot if you look at our fiscal policy and what the Federal Reserve has been doing with this lunatic ZIRP and QE1, 2, 3, and QE to infinity and so forth.
LB:   There's so much to unpack there. I've got to start somewhere. Let's start with our country's debt burden. Are we being lied to about the size of the debt that we're carrying right now?
DS:   We're being lied to about how we shouldn't worry about the future because it's slowly curing itself, that in the last couple of months you've been reading the deficit has come under a trillion dollars –  and so therefore we're on the path to recovery. The truth is, we have $17 trillion rounded today of national debt. And if you look out over the next 10 years with a sober forecast – not rosy scenario, not wishful thinking – but a forecast for GDP and unemployment and the other variables identical to what we've experienced in the last 10 years, you will end up with another $15 trillion of national debt. So when I add 17 and 15, I get over $30 trillion. I get upwards of 150% national debt to GDP, and that to me is unsustainable. It will lead to a collision, a crash-landing, somewhere down the road over the next few years.
LB:   So you think this crash-landing, this situation works itself out into just disaster basically within a matter of years? There's nothing we can do to push it down the road?
DS:   Well, sure. I mean, the Congress could wake up. Both parties could start telling the public the truth, that we're going to have to reform entitlements and cut back social security for the better-off retirees. We need a massive cut-back in defense. We have a war machine that's massively bigger than can be justified. We need to raise new revenue and taxes on the broad middle class, not just on the top 2% like Obama wants to do.
So if we did all that, we could begin to close the gap; but today both parties are dug in, absolutely opposed to any of the three items I mentioned, because the Fed is making it too easy. The Fed has driven interest rates, even with this little upward blip that we've had in the last few weeks, to sub-economic levels. I mean, we were borrowing five-year money at under 80 basis points for a long time when inflation is 2% which means the Federal government was carrying its debt in real terms at a negative rate.
So as a result of that, politicians weren't going to stand up and bite the bullet and make the tough choices and impose pain on their constituencies and electorates. They simply elected to kick the can and drift because Uncle Bubbles Ben Bernanke was making it so easy by buying half of the treasury debt that was being issued each month.
LB:   Call me crazy, but I think you're not a fan of Mr. Bernanke.
DS:   Absolutely not. I think he's a complete disaster. He's an academic zealot. He's implementing policies at the Federal Reserve that remind me of monetary central planning. The idea that we need more debt in this country and therefore you should drag interest to zero so that households and businesses will borrow more, I think is totally lunatic.
We still have $56 trillion of combined public and private debt in the United States. The households of America still have $12.5 trillion of debt. They haven't deleveraged. It's still 185% of wage and salary income. In other words, households still have almost two times as much debt as they earn in wages and salaries each year, which is kind of double where it was pre-1980 before we started down this path of bubble finance.
So I would say that Bernanke is the single most dangerous man ever to occupy high office. And the sooner he disembarks from the Eccles Building and gets back to Princeton and out of the way, the better off we'll be.
LB:   Well, let's talk hypothetical here. Let's say he finds his way back to Princeton off of Route 206 very soon, the new Fed Chairman comes in. What's the single most important thing that new Fed Chairman could do to even have a shot at correcting this situation?
DS:   Well, the new Fed Chairman is likely to be worse, Jan Yellen, who's the Vice Chairman of even more of a Keynesian money-printer, you know, monetary central planner than he is. But if you were to have a sober Federal Chairman who understood sound money principles – and that the money printing has to stop – the single most important thing you could do would be to liberate interest rates from the heavy hand of Federal Reserve manipulation, intervention in the markets every day, and price-setting all along the interest rate curve.
There isn't an honest interest rate in the market today, from 30-year bonds to overnight repo. It's all driven by the massive intervention and bond-buying and liquidity injections of the Fed. And you can't have effective, productive, stable, healthy capital markets without honest interest rates and honest price discovery. And that's not going to happen as long as you have a Fed committed to the kind of interventionist, activist, monetary doctrines that we have in place today.
LB:   So essentially we really need to get everyone out of the way and just take our lumps from our past sins, is what you're saying.
DS:   Yeah. I'm saying that, you know, the Fed has become a serial bubble machine. Every time they begin to require the market to clear itself, cleanse itself from the excess of leverage, the excess of speculation, the excess of all of the wild trading that goes on in the derivatives markets and so forth, the minute some furniture starts to break, they're in there with the pumper brigade, flooding the market with liquidity and therefore propping up everything so that you can reflate the bubble.
We did that on dot-com. That was a chance to clear the market, but Greenspan panicked and reflated. We got the housing bubble, a disaster. Bernanke panicked and reflated after 2007/2008. And now we've got bubbles everywhere, and junk bond, and selective housing and real estate markets, and EM debt, and other securities. They've simply turned the Federal Reserve into a serial bubble machine with this kind of activist money-printing Central Bank policy.
LB:   Right. So no real estate, no junk bonds, no to emerging market debts – I mean, that leaves us with very few investment choices except cash. But cash is a terrible investment to hold over the long term especially now in a negative real interest rate environment. So where do we go? What do we do?
DS:   Well, my point is that the Fed has sentenced you to – if you want to be prudent and liquid in the short term, because you don't trust the junk bond market or you don't trust the Russell 2000 Index, which has had an incredible run because of the Fed liquidity injections… If you don't trust any of that, you stay in a bank account or treasury bills, you earn nothing.  That is what the Fed is telling you. If you don't play ball and get out there and risk – you know, if grandma doesn't put her lifetime savings into a high-yield fund – then she gets zippo, zilch as a return. And the same is true for tens of millions of other savers in America.
I think it is outrageous, I think it is immoral, and I think it is a total abuse of our system. And it's not even debatable whether the Fed has made the overnight rate or the rate on short-term deposits zero. Listen to Bernanke. He says, "I have made it that way and I am going to keep it that way, and even if I start tapering the bond purchases in the middle of the curve, listen to me," is what he's saying. "I'm going to keep the short-term rate at zero."
Now that's wrong. There is no mandate telling the Fed to keep interest rates at zero from December 2008 to the middle of 2015.
LB:   I don't know why I'm enjoying speaking to you so much because you're painting such an optimistic picture of everything. No, in all honesty, I think this is important stuff that people have to hear. And I don't want to just focus on the Fed, I mean although the Fed bears tremendous responsibility. Given you background in politics, and I think what I appreciate about you is that you are not fiercely partisan. You are not afraid to lay the blame on whoever is guilty.
DS:   Right.
LB:   So say the President called today for advice, what is something he or Congress could do to really start moving things in the right direction?
DS:  If the President asked me, I would say, "You ought to tell the public that you've been misled for decades now. That we're deep in the soup fiscally, that there's going to have to be sacrifice across the board – the middle class, the upper class, beneficiaries, the taxpayers. That we're going to have to take some very tough medicine and it won't be short-run. It won't be a quick fix and then we're back to party time. It's going to last for years and years until we get our fiscal house in order: higher taxes, lower benefits for the better-off recipients, and a dramatic reduction in a lot of nice-to-have government programs that we can't afford. Such as student grants. They've got a billion dollars a year worth of Pell Grants that are going to people that are ineligible."
So my point is that's what the President ought to do, but there is no sign that this President's going to do it, obviously. [And] Bush was worse. So here we've gone for 13 years this decade. We've tried both kinds, both parties, and it's been a race to the fiscal bottom as far as I'm concerned. The Republicans are particularly at fault, because in a democracy, one party has to be the conservative fiscal party. The party that says "no," reminds the public that resources are limited that choices have to be made.
LB:   Right, so let me end with this. Can you give us a guidepost? If this scenario pretty much is going to happen and we can't do anything about it short of, you know, because there's no way we can expect politicians to come out and say, "Hey, we lied. We've been lying to you for decades, and here's what we need to do."  What's something that we can hold on to as a time where we should look to start reinvesting?
DS:   Unless there is a massive turnover in Washington, in other words the incumbents are driven out, first. Second, there is some kind of realignment of parties because the two parties today kind of have a convenient game going, and they don't really stand for anything. So if you see massive slushing of incumbency, if you see the Republican party breaking up, which I think has to happen, and you see a major political movement against the Fed and a housecleaning at the Fed, and people being reviled – in other words when we reach the point, here's my litmus test: You gave me a good question, the answer is when Bernanke becomes as reviled as Herbert Hoover was, then you'll know it's safe to get back in.
LB:   Well, there you have it folks, a litmus test for exactly when to get into the markets. Mr. Stockman, I do want to thank you again for joining us today, and everyone out there listening. As I told you in the intro, you might not immediately agree with his assessment. Yet his experiences alone warrant giving them some serious consideration, so I encourage you to check out his book, The Great Deformation: The Corruption of Capitalism in America. Thank you again for joining us.
DS:   Thank you.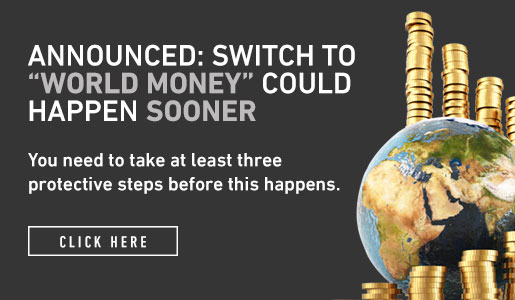 Comments (4)