If you're a newbie to the Wall Street Daily Nation, you're in for a treat.
Each Friday, we abandon long-winded analysis to let some carefully selected graphics do the talking for us.
But don't let our brevity fool you.
Most subscribers tell us this is the most insightful and useful column we write each week.
Yes, picture books can be educational for adults, too! And here's the latest proof…
Record High? Think Again!
MarketWatch's Mark Hulbert says, "Stock market bulls face an inconvenient truth as they celebrate the stock market's new all-time highs."
What's he talking about?
Apparently, we're supposed to be miffed that the S&P 500 Index didn't actually hit a new all-time high. At least, not on an inflation-adjusted basis…
We need stocks to rally about another 25% before we can make such a boast.
Oh, how "inconvenient!" We've already shown that history points to this bull market lasting longer.
So shoot me now and spare me the misery.
Talk About Stimulation
Want to know how the economy is doing? Forget about tracking consumer spending, manufacturing activity, or unemployment claims.
Just be on the lookout for pregnant women.
You might think that's inappropriate, but according to Hedgeye Risk Management, when more women aged 20 to 34 find jobs – in other words, when the economy is strengthening – more babies are born in the United States.
Conversely, when the economy hits the skids, the baby making stops.
Naturally, there's a nine-month lag between more jobs and more babies. (If I have to explain why, we're in trouble.)
So what does the latest data reveal? That Marvin Gaye's "Let's Get It On" is getting a lot of playtime.
After the Great Recession caused the largest drop-off in births in 40 years, Americans are certainly getting busy again.
Of course, more babies mean more Americans need bigger houses. And that plays right into our thesis of a prolonged real estate recovery. (In case you missed it, you can get up to speed to here, here and here.)
The Scariest Jobs Chart Ever, Revisited
Baby-making levels might be back to normal. But that doesn't mean all is well on the employment front.
Even after adding 165,000 jobs in April, we're still not back to normal, based on the latest version of "The Scariest Jobs Chart Ever."
Caution: This is one of the scariest images we've seen since the War ended.
At this point, any progress is welcome progress, though, right?
Dump China, Buy Mexico?
Two weeks ago, I shared that China lost its crown for being the lowest-cost producer of goods in the world. Now, it's Vietnam and Indonesia's turn to reign, which makes these ETFs compelling investments.
It turns out that we might want to invest a few pesos in Mexico, too.
As hourly manufacturing costs keep rising in China, it's making Mexico competitive again.
And given the manufacturing renaissance that's underway in America (thanks to a glut of cheap natural gas), Mexico is certain to benefit because of its close proximity.
Or, as Morgan Stanley's (MS) Nikolaj Lippman and Luis Arcentales put it, "A sustained manufacturing revival in the United States… will create a new competitor for the [emerging markets] world, but a partner for Mexico. And the benefits could be felt across the Mexican economy for years, perhaps even decades."
Sounds like an opportunity to me. And the easiest (and cheapest) way to play it would be the iShares MSCI Mexico Capped ETF (EWW).
That's it for this week. Before you go, though, let us know what you think of this weekly column – or any of our recent work at Wall Street Daily – by sending an email to feedback@wallstreetdaily.com or leaving a comment on our website.
Ahead of the tape,
Louis Basenese
| | |
| --- | --- |
| | Louis Basenese helped direct over $1 billion in institutional capital at Morgan Stanley before launching out as an independent analyst and co-founding one of the web's largest financial publishers. Learn More >> |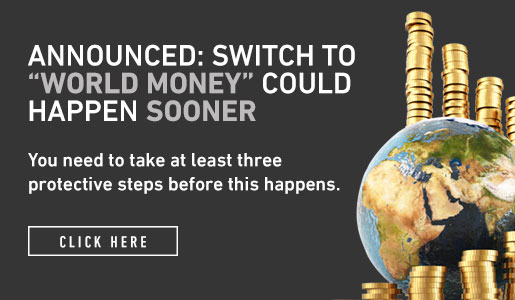 Comments (4)