With over half the companies in the S&P 500 having reported their first-quarter earnings results, some definitive trends are in play. And a few shocks, too.
The overall picture is pretty healthy, as the majority of earnings are surprising to the upside. We've see 73% of S&P 500 companies beat analysts' expectations.
The S&P 500 is on track to grow earnings by 2.1% this quarter. That's a shocker, as analysts expected profits to contract by 0.7%.
When we dig into the numbers, though, technology stocks aren't faring nearly as well as a group.
To date, the sector has delivered the lowest earnings growth rate for the quarter, according to FactSet's analysis.
In fact, the term "growth rate" is a misnomer, as tech earnings are down 3.2% overall.
We've seen a big reversal of fortunes, too. Longtime top performer, Apple (AAPL), is weighing the tech sector down the most, with an 18% earnings slide. (In our world, that qualifies as a "zombie stock").
Meanwhile, former laggard, Microsoft (MSFT), is propping it up, having notched an impressive 20% profit. Talk about back to the future!
What's the takeaway here?
Well, don't make the mistake of thinking that tech stocks are off-limits. Tech sector weakness simply means that we need to be pickier when choosing investments.
Specifically, we need to focus on "triple plays."
Insist on Rarity
If you're unfamiliar with the term, triple plays are companies that pull off a rare feat: beating earnings expectations, beating revenue expectations and raising future guidance.
These companies are essentially firing on all cylinders. As such, they represent the most fundamentally solid and compelling investment opportunities in the sector.
That goes for us as investors, and other companies, too
You see, there's no better way for blue-chip tech firms to remedy their weakening growth rates than by simply buying other companies to boost growth. And they can certainly afford it.
While their first-quarter earnings are underperforming, tech companies are still sitting on a massive amount of cash. At the end of 2012, they collectively had $556 billion in cash – the largest stockpile of any sector.
So wouldn't it be a profit coup if we could invest in a triple-play company before a takeover announcement?
Well, that exactly what I'm aiming to do.
Since aluminum giant, Alcoa (AA) kicked-off earnings reporting season on April 9, a total of 33 companies have scored triple plays. And more than one-third of them were technology companies.
I'm dissecting the list as we speak. And next week, I'm going to serve up a few triple-play candidates that are also prime takeover targets. So stay tuned.
That's just about it for this week. But before you sign off, check out an interesting piece of news from our Senior Correspondent, Elizabeth Carney. One of the world's biggest companies is stirring up some exciting innovation in a new field.
Ahead of the tape,
Louis Basenese
| | |
| --- | --- |
| | Louis Basenese helped direct over $1 billion in institutional capital at Morgan Stanley before launching out as an independent analyst and co-founding one of the web's largest financial publishers. Learn More >> |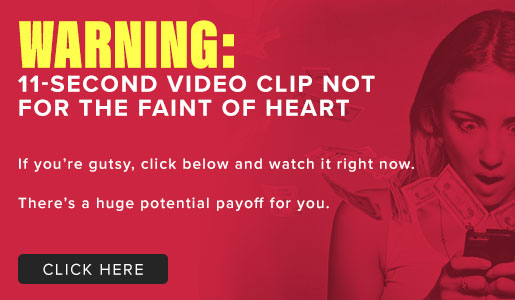 Comments (0)