In case you haven't noticed, I've been on a bit of a "data doesn't lie" kick lately…
Yesterday, I employed over two decades' worth of numbers to debunk the negative implications regarding a plunge in bullish sentiment.
On Friday, I used stats to put the sudden spike in Japanese government bond yields into perspective. (In case you missed it, there's no reason to panic.)
And, of course, I also recently shared undeniable numerical proof that stocks are not overdue for a pullback.
Today, I'm staying on my data kick and setting my sights on real estate.
Recall, in April 2012, I shared 11 irrefutable signs that the real estate market had officially entered recovery mode.
Let's see what the data tells us this year…
Nothing to Fear
There's no denying that homebuilding stocks have been on a tear lately.
Heck, the iShares Dow Jones US Home Construction Fund (ITB) is up 62% in the last year, compared to about 15% for the S&P 500 Index.
Such an impressive run-up is making even faithful Wall Street Daily readers afraid that another housing bubble is forming.
It's tough to blame them, considering that there are plenty of stats flying around to embolden such fears. Like the fact that searches for "home values" and "real estate listings" in the last year are up 158% and 256%, respectively, according to Yahoo! (YHOO).
But come on, people! Let's not put our faith – or worse, our investment dollars – in consumer internet search habits. Instead, stick to the hard data coming out of the real estate market itself.
When we do, it's clear that we're nowhere near bubble territory.
Don't believe me? Then chew on these five stats…
~Real Estate Recovery Stat #1: Timmmmmmber!
Don't look now, but framing lumber prices just hit an eight-year high.
What gives? It's just simple supply and demand. That is, supply is down and demand is up.
If the housing recovery were nothing more than smoke and mirrors, lumber prices wouldn't be jumping.
Oh, and foreign suppliers wouldn't be ramping up production "to meet higher demand for lumber," either, as industry researcher Wood Resources International, LLC reports.
~Real Estate Recovery Stat #2: Keep Raising the Roof
Even though housing starts have rebounded swiftly – from a low of roughly 500,000 per year, to a tad less than one million now – we're still far from the peak.
Back in early 2006, housing starts were running at an annual rate of over 2.2 million.
Even more telling is the fact that we're far from the long-term average. Over the last 50 years, housing starts averaged about 1.46 million.
So the market can clearly handle much more construction activity. Especially when we take into consideration all the new buyers out there…
~Real Estate Recovery Stat #3: If You Build it, They Will Buy It
As I reported before, "Roughly one million new households will be formed this year. And those new people will need houses to live in. By 2017, a total of six million new households will need a home, according to JP Morgan's (JPM) estimates."
And they can't simply buy existing single-family homes because, well, there aren't enough!
The total number of single-family homes, condos, townhomes and co-ops for sale in the United States shrank 15.22% over the last year, according to the latest data from Realtor.com.
We're not just talking about a few markets skewing the data, either. Inventories are down in 134 of the 146 markets that Realtor.com tracks.
Simply put, build it and they will buy it!
Homebuilders know it, too.
Granted, the latest headline reading of homebuilder confidence fell to 42 in April, as measured by the National Association of Home Builders/Wells Fargo Housing Market Index. But the component that gauges sales expectations for the next six months hit its highest level since February of 2007.
~Real Estate Recovery Stat #4: More Affordable Than Ever
The latest monthly Housing Affordability Index reading from The National Association of Realtors (NAR) reveals that housing is still more affordable than ever.
In February, the Index checked in at 206.2 – making it the third consecutive month above 200.
Essentially, this means that the typical American household – earning the median income of $62,254 – would actually have 206.2% of the standard qualifying income to purchase a median-priced single-family home (with a 20% down payment and a 30-year fixed rate mortgage).
Or, as Dr. Mark Perry of the American Enterprise Institute says, "Home ownership today is more affordable than almost any time in history, and is the 'bargain of the century.'"
Now, the classic sign of a bubble is when prices get out of reach. And that's obviously not the case here.
~Real Estate Recovery Stat #5: Mortgage Lending on the Mend
Bad lending practices ultimately doomed the real estate market last time around. So what's going on at banks now? Nothing alarming.
For one thing, they're working through the bad loans, as mortgage delinquencies keep dropping.
According to the latest Mortgage Monitor Report from LPS, 6.8% of mortgages were delinquent in February, compared to 7.28% last year. The percentage of mortgages in the foreclosure process is down over the last year, too, from 4.2% to 3.38%.
More importantly, banks are making sure history doesn't repeat itself.
Case in point: Since 2007, there's been a 90% drop in mortgage originations for borrowers with subprime credit scores (620 to 680) since 2007, according to Federal Reserve Governor, Elizabeth Duke.
In other words, banks are requiring much more than a pulse to get a mortgage nowadays. What a novel concept!
Bottom line: The data doesn't lie. The real estate recovery is legit – and here to stay.
Either invest accordingly, or miss out.
Ahead of the tape,
Louis Basenese
| | |
| --- | --- |
| | Louis Basenese helped direct over $1 billion in institutional capital at Morgan Stanley before launching out as an independent analyst and co-founding one of the web's largest financial publishers. Learn More >> |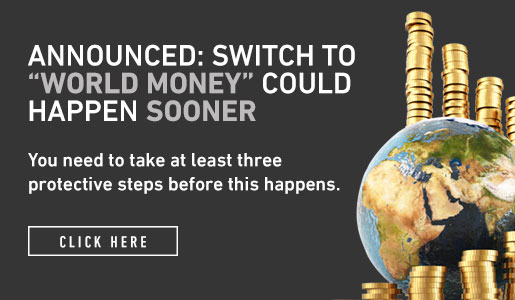 Comments (3)