It's Friday in the Wall Street Daily Nation!
For the newbies, that means it's time to embrace the adage that "a picture is worth a thousand words."
I select a handful of graphics to put important economic and investing news into perspective for you.
And this week, I've got a singular focus: Washington, D.C.
Enjoy!
Curb Our Spending? NEVER!
For the first time in four years, Senate Democrats released a budget resolution.
I get why they didn't really rush. I mean, who needs a budget when you don't have a spending problem?
Oh yeah. We do have a (huge) spending problem.
Don't we have a massive debt problem, too?
I can't remember, because a certain someone (residing at 1600 Pennsylvania Avenue) recently said, "[We] don't have an immediate crisis in terms of debt. In fact, for the next 10 years, it's gonna be in a sustainable place."
No spending problem. No debt problem. Well, then it should come as no surprise that this historic budget resolution increases spending by about 60% over the next decade.
The end result? Get ready for a fiery and drawn-out debate. I say that because the competing budget proposals from Republicans and Democrats are miles apart on how they should address our fiscal problems.
As they duke it out, let's just hope the market largely ignores them again – much like it did during the Fiscal Cliff debate.
Move Washington, Get Out the Way
I know it might be taboo to talk politics and finance. But at this moment in history, Wall Street and K Street intersect too much to ignore.
And here's the key message that politicians need to get: The market just wants them to move and (as Ludacris eloquently raps) "get out the way."
Case in point: The NFIB Small Business Optimism Index for March revealed that the biggest concern facing small businesses is still Washington!
Readings for government regulations and taxes checked in at 21, the same level they rested at one year ago.
Bespoke Investment Group puts the data into perspective best: "For every small business owner who cites poor sales as the number one problem with their business, there are more than two small business owners who cite issues related to Washington as their number one problem."
And Bespoke adds that "one can only imagine how much better off the U.S. economy would be if politicians just got out of the way."
Amen! Forget imagining it, though. Here's hoping that we actually get to witness it happen.
That's it for this week.
I'm sure I ruffled someone's feathers, today. So speak up and let me know how despicable I am for daring to mix politics and finance.
In all seriousness, we cherish your feedback and want to know what you think of this weekly column – or any of our recent work at Wall Street Daily. So go ahead and send us an email to feedback@wallstreetdaily.com or leave a comment on our website.
Ahead of the tape,
Louis Basenese
| | |
| --- | --- |
| | Louis Basenese helped direct over $1 billion in institutional capital at Morgan Stanley before launching out as an independent analyst and co-founding one of the web's largest financial publishers. Learn More >> |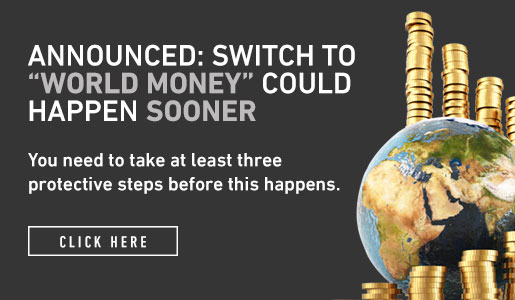 Comments (6)