If you weren't with us last week, you need to know that on Fridays I embrace the adage that "a picture is worth a thousand words."
I select a handful of graphics to put important economic and investing news into perspective for you.
This week, I'm dishing on digital and print media, protesters and unfounded fears over a financial collapse.
So say "goodbye" to long-winded commentary. And "say hello" to easy-to-understand pictures with some quick-hit observations.
Print Media: Dead or Dying? Who Cares!
The last time I suggested print media is dead, some old-school readers rioted (via nasty emails, of course). Remember, we're in the Digital Age. Old-school protests don't work (more on that in a bit).
Anyway, apparently some of you still get The Grey Lady on Sundays and love thumbing through her dew-moistened pages. So, yes, technically, print media isn't dead. But it's only a matter of time.
Here's more proof, courtesy of thinker and blogger extraordinaire, Mark Perry.
Over the last 60 years, newspaper advertising's fallen off a cliff.
Fun fact: The year advertising revenue peaked is the same year blogging software first appeared, according to NYU journalism professor, Jay Rosen. Coincidence? Not so much.
It's hard to stay in business when your primary source of revenue is on a crash course with zero. Unless you're the U.S. Postal Service, that is.
Whether you call print media "dead" or "dying," it doesn't matter. The investment implications remain the same. Avoid traditional print publishers like the plague. Even if they pay dividends like Gannett Co. (NYSE: GCI).
Foiled Again, Batman
Now let's move on to people that are actually protesting physically, not digitally: the Occupy Wall Street folks.
Their mission? To fight against "the greed and corruption of the 1%." In the spirit of Dr. Phil, "How's that working out for them?"
Not so good.
Since the self-professed "leaderless resistance movement" began a year ago, the S&P 500 Index is up 20%.
Let's give the protesters the benefit of the doubt for a second. They really just want the big, bad financial sector to implode on itself, right? And that must have happened by now, right?
Foiled again, Batman.
The S&P 500 financial sector is up even more since the protests began.
Maybe the financial collapse is right around the corner then? Or not.
While chatter about it certainly keeps increasing, the most reliable indicator of impending financial doom isn't signaling any trouble ahead.
Turns out, Credit Default Swaps (CDS) – which represent the cost of insurance against a default – are falling precipitously in the financial sector.
You'll recall, spiking CDS prices preceded the Great Recession and all the European bailouts. So the next time someone tries to scare you stockless about a financial collapse, check out CDS prices before you even think about believing it.
That's it for today. Before you sign off, though, do us a favor. Let us know what you think about our pretty pictures today – or any of our recent work at Wall Street Daily – by sending an email to feedback@wallstreetdaily.com, leaving a comment on our website, or catching us on Facebook or Google+.
Thanks and enjoy the weekend!
Ahead of the tape,
Louis Basenese
| | |
| --- | --- |
| | Louis Basenese helped direct over $1 billion in institutional capital at Morgan Stanley before launching out as an independent analyst and co-founding one of the web's largest financial publishers. Learn More >> |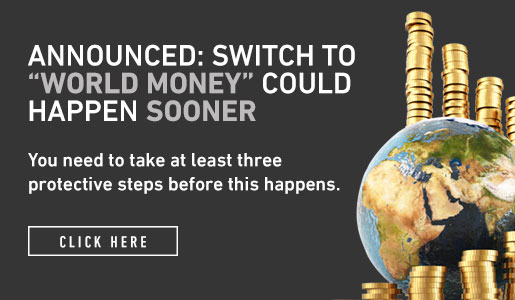 Comments (6)