Gold is one of the most actively traded and wildly popular investments in the world. That's because it tends to hold its value during both good and bad economic times. So it's traded among hedge funds, banks and individual investors, alike.
And considering that some analysts think that gold could replace the U.S. dollar as the new standard world currency, it's easy to see why the commodity could skyrocket in price over the next few years.
Especially when you consider my latest technical analysis of the commodity…
You see, commodity prices aren't just affected by their underlying fundamentals like supply and demand. Prices also fluctuate based on specific chart patterns. And right now, gold is carving out what many analysts believe to be a very bullish formation.
To see what I mean, take a look at this chart showing gold October 2012 futures.
Gold prices are establishing a triangle pattern, meaning they've been trading in smaller and smaller ranges. Usually when this occurs, and the commodity breaks out of the formation, it tends to continue blasting in that direction.
As you can see, gold recently broke out of the top of the triangle pattern, indicating a run-up in prices.
Now it has dropped into the pattern again. This is common with this type of chart, and it usually means it's your last chance to get in before the real rally kicks in.
Of course, that's not 100% guaranteed, but I've seen this setup work out that way countless times before.
If that's enough to get you bullish on gold's trajectory, then here's a conservative – yet profitable – way to play it…
A Simple Way to Pocket Cash on Gold's Rise
There are two ways you can play the gold market. Either through future options contracts that trade through the Commodity Exchange (COMEX) in New York, or through gold's exchange-traded fund, SPDR Gold Trust (NYSE: GLD).
(However, not everyone's set up to trade directly on the COMEX, so GLD will likely be the best option for most Wall Street Daily readers.)
GLD essentially tracks the movements of gold futures on the COMEX, and trades at approximately one-tenth the value of real gold. So while the current futures contract for gold is at around $1,605 per ounce, GLD trades for roughly $155.50 per share.
I wouldn't just buy GLD outright, though. The best way to take advantage of any upside, while also giving yourself some room for error, is to sell put options on GLD. (The same type of trade that allows you to purchase Apple (Nasdaq: AAPL) shares at a huge discount.)
Again, selling put options starts with taking a look at the option chain. The table to the right shows what GLD's options looked like when shares were trading for $155 yesterday.
As you can see, all options come with different strike prices and expiration dates. The strike price is what you're willing to pay for shares. And the expiration date is the amount of time you're in the trade.
Let's use the $125 strike price as an example. Based on the bid price (how much people are willing to pay for the option), you could sell these puts for $1.02.
Since each contract equals 100 shares, you would receive $102 in your trading account for every one put-option contract you sell. Plus, you'd be obligated to potentially purchase 100 shares of GLD at $125 each, through January 2013.
As I said with the Apple trade, you can always sell more than one contract. Selling 10, for instance, would hand you $1,020. But if shares fell to $125 by January 2013, you'd have to purchase 1,000 shares.
At $125, you'd get to purchase shares at a $30 discount to today's prices. So if you're okay with buying gold at that level, then this trade could be right for you.
Remember, though, shares must fall to $125 by January 2013 for you to purchase shares. If they don't, then you'd just walk away, keeping the money you received on day one. Not a bad tradeoff.
If you want to get involved in a trade like this, make sure to consult with your broker to see if it matches your risk tolerance.
Ahead of the tape,
Lee Lowell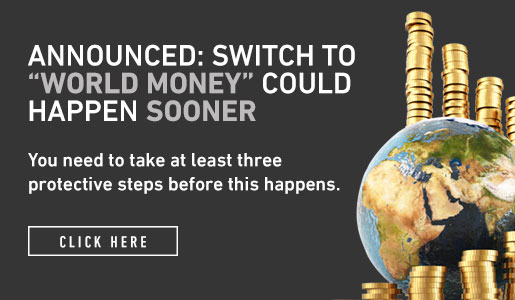 Comments (1)