It's completely counterintuitive. But when U.S. consumers get the gloomiest, stocks rally.
I've told you about this phenomenon once before (see here). But it bears repeating in light of Tuesday's less-than-rosy numbers out of The Conference Board.
The Consumer Confidence Index fell to a five-month low of 62 in June. Not-so-clairvoyant economists only expected a dip to 63.
To put those weakening numbers into perspective, consider:
When the economy is growing at a healthy clip, confidence readings routinely check in at 90 or above.
And during the 18-month recession, which officially ended in June 2009, consumer confidence averaged a 53.7 reading.
Given those guideposts, we're clearly trending toward recessionary numbers, not expansionary ones. Nevertheless, the disappointing consumer confidence readings shouldn't prompt you to bail on stocks.
Here's why…
A Contrarian Stance, Backed By Multiple Studies…
The first time I wrote about this contrarian indicator, I cited a study out of Ned Davis Research. The findings warrant repeating:
When confidence is high (above 113), the Dow trades flat over the next year.
When confidence is moderate (between 66 and 113), the Dow averages a 5.9% gain.
When confidence is low (below 66), the Dow rallies by an average of 13.1% over the next year.
We're now officially in the "low" score category, although just barely. But that still means, based on history, stocks are most likely to rally from here over the next year, not fall.
I know that's a hard stance to accept. Especially given the latest spat of volatility prompted by fiscal woes in the eurozone. But additional research leads to the same conclusion…
Treat This Bearish Reading as Bullish, Too
One of the questions The Conference Board asks during its monthly survey is if consumers expect stock prices to head lower.
As Bespoke Investment Group notes, "In the May report, 32.4% of consumers expected stock prices to decline… however, that percentage jumped to 42.6% [in June] for an increase of 10.2 percentage points."
That's a massive (and rare) increase in bearish sentiment. In fact, we've only witnessed a month-to-month jump of more than 10 percentage points seven times since 1987.
Wouldn't you know it, though? On all but one occasion, the S&P 500 Index rallied following a spike in bearishness over the next six months. The average gain? Almost 14%, based on Bespoke's data, which is nothing to bemoan.
The only time stocks dropped along with bearish sentiment occurred in late 2008, right as the economy and financial markets entered their roughest patches. (Think Lehman bankruptcy). Specifically, the S&P 500 Index fell by 9.9%.
So, based on Bespoke's analysis, there's an 85% chance stocks will rally following the latest spike in bearish sentiment. It's hard to argue with those odds.
For argument's sake, though, let's assume stocks fall like they did in 2008…
A similar 9.9% drop for the S&P 500 would put the Index at 1193 at year's end. Then, if we use the latest consensus estimate for 2012 earnings per share of $106.88, that would value the Index at a price-to-earnings ratio of just 11.2.
Sorry folks. That's well below the historical average P/E ratio of 15.9. And it's even cheaper than the valuation at the market bottom in March 2009. So, based on valuation, the argument that the recent spike in bearishness could lead to a fall for stocks – like it did only one other time since 1987 – is flimsy at best.
Bottom line: As I warned over a year ago, consumers have a terrible track record for predicting stock market performance. So don't rush for the exits just because they're suddenly bearish. If anything, it should encourage you to buy while there's blood in the streets.
Ahead of the tape,
Louis Basenese
| | |
| --- | --- |
| | Louis Basenese helped direct over $1 billion in institutional capital at Morgan Stanley before launching out as an independent analyst and co-founding one of the web's largest financial publishers. Learn More >> |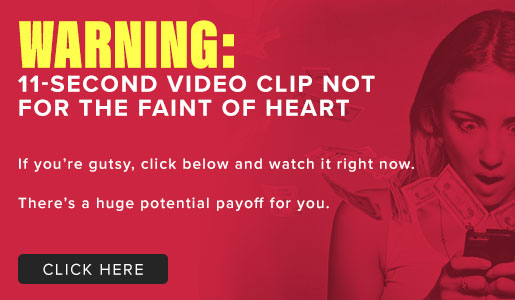 Comments (1)