A lot of investors fled from nuclear power in the wake of the Fukushima disaster – but the smart ones stayed put.
And if you didn't, now is the time to get back in.
Why? Because uranium has the best outlook of any energy source out there right now.
There was a lot of panic in the wake of the Fukushima meltdown, so you may be surprised to learn that the number of planned nuclear plants actually rose in the past year from 156 to 163.
In fact, globally, the number of nuclear reactors is still on track to swell from 434 today to 820 by 2030. And 96 reactors are set to come on-line by 2021.
Even in Japan, Prime Minister, Yoshihiko Noda, has called on his people to accept that the two nuclear reactors that were shuttered after Fukushima must be restarted to protect the economy and people's livelihoods.
Japan's 50 reactors supply about 30% of the country's electricity needs, and Noda said that a 15% power deficit is expected in the western region – a level he called "severe."
Without nuclear energy, Japan's utilities would have to rely more heavily on expensive fossil fuel, which would increase electricity bills and financial strain on small businesses.
Meanwhile, nuclear power remains an essential part of the energy picture in other parts of the Pacific, as well.
For example, China is the world's largest emitter of greenhouse gas, thanks to a battery of carbon dioxide-spewing coal-fired power plants.
Coal supplies 80% of China's power, and windmills and solar panels don't have enough juice to power a country home to more than one billion people and the world's second-largest economy.
That's why China is on track to build up to 100 nuclear reactors – nearly a quarter of the global total – by 2030.
Twenty-eight of those plants are already being built, and an official recently told the China Daily plans for "about 10" plants that were put on hold last year would soon be green-lit for construction.
China isn't alone, either.
India has announced plans to grow its nuclear power capacity from 5,000 megawatts to 63,000 megawatts by 2030.
And in Australia, there have been calls for nuclear energy to provide power to parts of the outback.
Additionally, while Germany has decided to purge itself of nuclear power, other Western countries are plowing ahead.
In fact, Great Britain and France recently signed a joint declaration of cooperation on nuclear energy. France already gets 75% of its power from nuclear plants.
Smaller countries in Europe, such as Poland, are pushing ahead, too – much to the chagrin of some of their neighbors.
The International Atomic Energy Agency (IAEA) says that an accelerated phase-out of nuclear power in Germany, a government review of the planned expansion in Japan and temporary delays elsewhere in the world, will result in only a 7% to 8% drop in projected demand growth for 2030.
Meanwhile, global usage of nuclear energy will rise 35% to 100% by then.
And yet uranium production hasn't kept up with demand. About 170 million pounds of uranium were consumed last year, but only 140 million pounds were produced. And when you look at the way nuclear power projects are coming back on-line, it's obvious that the discrepancy will only get worse.
That's a big reason why Wall Street Daily Senior Analyst, Matthew Weinschenk – who just wrote a forecast on uranium prices – thinks they'll rise from their current level of about $52 per pound to $85 – a 63% jump.
If you're wondering how you can profit from this development, there's a way.
In the latest issue of Wall Street Daily Insider, we recommended a company that's not only poised to take advantage of the growing nuclear power demand, but the imminent rebound in natural gas prices, as well.
And the best part is that the stock yields a juicy 5.7%.
Now, I hate to say it, but this pick is too good to just give away. All you have to do to get it is sign up for a risk-free trial for WSD Insider… Do that and you'll be granted immediate access to our latest issue, which also features a neat way to snap stocks up at a discount to their market value.
I strongly recommend you do this – it's worth the effort.
Cheers,
Jason Simpkins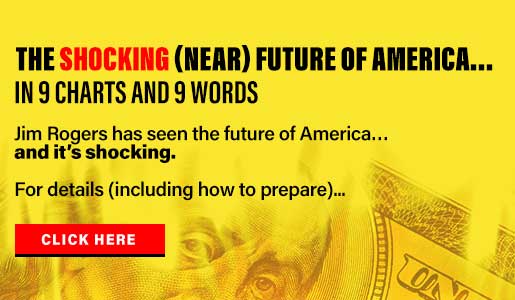 Comments (1)