You've heard about shale, right?
 You know, the huge oil and gas formations that are paving the way to America's energy independence…
 They include the Eagle Ford shale, where reserves are estimated as high as 10 billion barrels oil equivalent, and the Bakken formation, which holds as much as 24 billion barrels.
Well, there are three companies that are very active in these formations, and they stand to reap a tremendous profit from their development.
Better still, with natural gas prices at historic lows, these shale stocks are currently oversold, undervalued and due for a major breakout.
They produce both oil and gas and have mastered the art of hydraulic fracturing.
So pull out your pencil and add the following three shale stocks to your shortlist of investment candidates…
Shale Stock Play #1
The first shale stock we're going to look at is EOG Resources (NYSE: EOG).
Traditionally known as a natural gas company, EOG has reinvented itself as a major oil producer.
The crux of this transformation is the company's operations in four major U.S. shale formations: the South Texas Eagle Ford, the North Dakota Bakken, the Fort Worth Barnett Combo and the Permian Basin.
These operations have sent EOG's production soaring. The company reported a 49% increase in crude oil and condensate production in the first quarter.
Better still, EOG raised its 2012 forecast for total production growth to 7% and total liquid production growth to 33%. Previously, the company estimated respective growth rates of 5.5% and 30%.
CEO, Mark G. Papa, said he expects production to reach at least 200,000 barrels per day this year – up from 140,000 in the first quarter. That could make EOG the second-largest oil producer in the United States.
The increased production has gone straight to EOG's bottom line, with first-quarter net income more than doubling to $324 million from $134 million.
Total revenue climbed 48% to $2.8 billion, which means EOG has seen double-digit year-over-year revenue growth in each of the past five quarters. Growth averaged 62% in that span, with the biggest jump (89.3%) coming in the second quarter of last fiscal year.
Earlier this year, analysts from Goldman Sachs Group Inc. (NYSE: GS) raised their EOG share price target to $118, while Deutsche Bank (NYSE: DB) just raised its price target to $130.
Those targets represent a 19% to 31% premium to today's price of about $99.
Shale Stock Play #2
Another shale stock that's destined to rise is Devon Energy Corp. (NYSE: DVN).
Devon has two things in common with EOG: It has a serious foothold in North American shale plays and it's shifted its business to focus more on crude oil.
And that's proved to be a winning formula – just as it's been with EOG.
However, the best thing Devon has going for it is the $7.1 billion of cash on its books. This is the seed money that the company will use to cement its standing as an onshore drilling powerhouse.
CEO, John Richels, has outlined a plan to increase his company's annual oil production by 19% – and natural gas liquids output by 13% – over the next four years.
So by 2016, natural gas will account for less than half of Devon's production – down from nearly two-thirds currently.
That will ease the burden if natural gas prices remain low. It will also let the company build on the success it's had with shale oil. For example, Devon recently accrued another 500,000 acres in the already-productive Permian Basin. That could add another 70,000 barrels of oil equivalent a day to production by 2015.
Devon suffered a small setback when it reported first-quarter results that failed to meet expectations. But that's only made the company more of a bargain.
Analysts have an average one-year target price of $92 on Devon Energy stock. That's nearly a 53% increase from where it's currently trading at $60.
Shale Stock Play #3
The third natural gas company every investor should have on their radar is Anadarko Petroleum Corp. (NYSE: APC) – a company Tudor, Pickering, Holt & Co. named the "King of the Rockies."
Deepwater drilling has been an area of great success for Anadarko, which has operations in the Gulf of Mexico and off the coast of Africa. But most of the company's production growth is coming from shale.
For the first quarter, Anadarko reported year-over-year liquid production growth of 55% at the Eagle Ford shale, 92% growth in the Permian Basin and 392% growth at the East Texas Haynesville shale.
And CEO, Al Walker, said his company is trying to acquire more shale assets from Chesapeake Energy (NYSE: CHK), which is loaded with debt and under siege over controversy concerning former Chairman, Aubrey McClendon.
That means Anadarko, which has worked with Chesapeake in the past, could snap up some strong assets on the cheap. That would be a coup for a company that posted strong first-quarter numbers.
Sales rose 6.2% to $3.45 billion in the first three months of the year, and Anadarko raised its sales volume guidance for 2012 to a range of 258 million to 262 million barrels of oil equivalent.
Revenue rose to $3.45 billion from $3.25 billion, and net profit surged ten-fold to $2.16 billion, thanks to a $1.8 billion gain from an Algerian tax settlement.
The 28 analysts with 12-month price targets for Anadarko have a median target of $103, with a high estimate of $140 and a low estimate of $83. The middle road represents a 66% upside for the stock, which is currently trading at about $62.
Of course, if you want to snag an up-and-coming shale stock you can't do any better than the one Wall Street Daily Chief Investment Strategist, Louis Basenese, just uncovered for WSD Insider. Louis went right to the source and dug up a company whose services have become an integral part of the fracking process.
It's already up 8.6% in the two weeks since he recommended it to subscribers and it yields a whopping 8.4%.
To find out more, all you have to do is and you'll be granted immediate access to our latest issue.
Believe me, it's worth it.
Cheers,
Jason Simpkins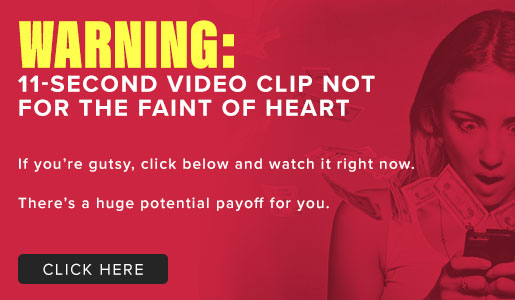 Comments (1)