It's safe to say investors aren't happy with Amazon's (Nasdaq: AMZN) earnings announcement on Tuesday. Shares plunged as much as 12% yesterday and have continued to drop today.
And no, it's not because the company failed to announce plans to launch a subscription-based streaming movie service like I hoped.
First of all, although the company pulled in $17.43 billion in the fourth quarter – up 35% from the same quarter last year – it fell short of the consensus estimate of $18 billion.
At the same time, Amazon's operating expenses jumped by 38%. As a result, profits only came in at $177 million, or a 58% drop year-over-year.
Simply put, investors are spooked that the company is now spending its cash at a faster rate than it's growing it.
Here's why I'm not concerned…
The Fire is Igniting Media Sales
Part of the reason Amazon's operating expenses are up right now is because the company launched the Kindle Fire tablet during the holiday season.
As I've mentioned before, the Fire's combination of user interface, speedy Silk browser and $199 price tag currently makes it the strongest Android tablet competitor to go up against the iPad. And Amazon reported that sales of the entire Kindle lineup increased 177% over the same quarter last year.
Analysts estimated that Amazon sold between five and six million Kindle Fires this quarter. And while that doesn't beat Apple – which sold 15.4 million iPads during the holidays – it's a good start.
And, more importantly, the tablet leads users directly to other Amazon products – like e-books, apps and movies.
As Amazon's CFO, Tom Szkutak says, they see "a lot of positive things across the business in terms of adoption of our digital offerings, very specifically Kindle growth from a device standpoint and the content that's following that."
Consider…
The company's digital media sales have jumped 15% over the same quarter last year.
The number of Amazon Instant Video subscribers – and the number of videos bought or rented on its site – doubled.
Streaming video from Prime members jumped almost 300% compared to the third quarter.
And the Amazon Appstore continues to gain popularity: "Customers nearly tripled in the fourth quarter compared to the third… [And] customers downloaded more apps from the Amazon Appstore during the fourth quarter than they had during all previous quarters combined."
This uptick in digital media is exactly why the company is willing to lose upwards of $15 on each Fire made. It can make up for the loss – and eventually profit – as more consumers get hooked on Amazon's services.
In other words, the company's taking a short-term hit to profits in order to ensure that it continues to grow in the long-term as Kindle Fire owners consume more content.
A move that I think would have investors intrigued. I'm not alone, either.
Time to Weigh In…
The Wall Street Journal posted a survey that asked readers whether this strategy is a "risky gamble [that] may not pay off" or a "smart plan with big upside."
The result as of this morning: 82.7% went with the latter.
So why aren't investors feeling the same way? Good question.
As Eric Krell, from Business Finance, says, "In the past decade, Amazon has displayed ample risk intelligence. If the rest of us are to improve our own (personal and organizational) risk intelligence, we will have to reconcile the difference between how we vote with our brains versus how we vote with our pocketbooks."
I couldn't agree more.
Good investing,
Justin Fritz
| | |
| --- | --- |
| | Justin Fritz joined the financial publishing business seven years ago (after a brief two-year stint teaching seventh-grade English). He served as Wall Street Daily's Executive Editor for three years. He also worked as Senior Writer, focusing mainly on technology and biotech coverage. Learn More >> |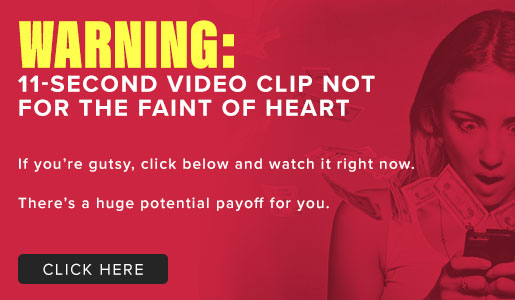 Comments (1)