It's political season on Wall Street. And as much as we may find political punditry unsightly, we can't afford to turn a blind-eye to what's happening to the market.
Between wars, taxes, entitlement spending, unemployment, infrastructure and educational woes, things can't really get much worse for this country, right?
But underlying this already excessive string of problems, there's an even bigger problem: the national deficit.
Our nation's debt is the single most important issue of the upcoming election. It shows us who's who, what's what and where we're headed.
Make no mistake about it: If you're not thinking about the candidates in terms of national debt, you're fooling yourself about what's really important to the U.S. political landscape.
One Big Party Means One Big Hangover
When it comes to the deficit, all the parties and the candidates are almost indistinguishable – except one. And that's Ron Paul.
None of the other candidates are proposing any real deficit reduction. They say they want to cut the deficit, but what they really mean is that they want to cut the growth in future spending.
Unfortunately, Ron Paul's platform – real cuts in the deficit, real cuts in the defense infrastructure, real entitlement reform, real healthcare reform – is too full of change. And too scary for most Americans to embrace.
Yes, he had strong numbers in Iowa and New Hampshire, but given the majority of Americans' aversion to his strong policies, Dr. Paul still faces almost impossibly strong headwinds in trying to convince the majority of his party to nominate him.
He'll put up a good fight, and he'll put, as always, significant issues on the table. But in the end, his chances for the nomination are worse than slim.
If Ron Paul's out, what about the other candidates' take on the debt issue?
Consider the huge fight going on by both parties to slash a trillion dollars or more from the national debt over the next decade. What does it mean?
Absolutely nothing in the grand scheme of things.
A trillion dollars over 10 years sure sounds like a lot of money. But it works out to about $100 billion a year for 10 years. Put the figures that way, and it sounds like a lot less money.
Then you consider the fact that the money being talked about is to be cut from future spending and not from the actual current debt and it's sounding like even less.
In fact, it's no savings at all.
If a trillion-dollar deficit spending reduction plan were to pass, the national debt 10 years from now would be several trillion dollars higher than it is today.
Why? Well, when you're running monthly deficits of more than $100 billion, that trillion-dollar savings disappears in about 10 months. It's not even a drop in the ocean.
That's the kind of savings and debt reduction that's actually being considered by the two parties and all the viable candidates.
So if Dr. Paul's nomination – a nomination that would mean a real chance for fiscally responsible policy change – is unlikely, what kind of future do we have in store?
Money Spends What Math Portends
Mathematics is not the strong suit of politicians. Spending suits them much better.
Take the most likely candidate of the Republican Party, Mitt Romney.
Romney is the picture-perfect "1%" that most people refer to when they talk about the economic divide in this country. Were he to win the presidency, one would think the market would be doing back-flips with joy.
Ordinarily, that would be true. After all, having one of your own as President would mean an ally to all those seeking to pursue the high-hanging fruits of capitalism.
However, before we start counting our future returns from the market, it might be a good idea to understand that a Romney presidency would do little to fix the fiscal ills that the United States faces today.
In fact, spending would likely accelerate if the platform he's running on became a reality.
That platform has three significant cornerstones.
Solidify the Bush-era tax cuts.
Boost defense spending.
Reverse Obamacare.
The only place that Romney looks to for offsetting the increased spending is to cut from entitlements.
The result is at best "deficit neutral" in political speak. Spoken plainly, deficit neutral means a continued deficit spending at the current rate of more than $100 billion per month.
The horrible end-result of this policy? A country in receivership (see Greece).
The Conflict in Sum
The conflict for the 1% is this: What's more important – real cuts to the debt, which will mean higher taxes in the form of a rollback of the Bush-era tax cuts and less entitlement spending? Or the status quo – which will mean more money in the short term, but social strife and further economic instabilities in the years to come?
None of the candidates, besides Ron Paul (who, based on current projections, simply cannot win), is even remotely willing to seriously take on the structural problems that are ailing this country.
Lacking the viability of Ron Paul's nomination, we're left with the worst possible choice – candidates from two parties who do their utmost to distinguish themselves, but are really pursuing the same, tired fiscal policies that are leading to the slow, steady economic destruction of the country.
Such a choice might as well be no choice at all.
Ahead of the tape,
Karim Rahemtulla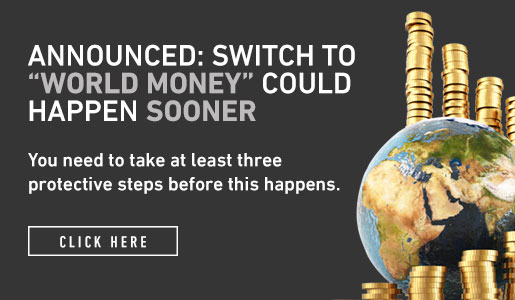 Comments (2)