It's Friday in Wall Street Daily Nation. That means it's time to embrace the adage that a picture is worth a thousand words.
This week, I've handpicked two charts to convey some important insights about the bubbleheads in Washington and the unfolding crisis in Europe.
So let's get to it…
Get a Clue Washington!
On Monday, President Obama unveiled his $3 trillion deficit reduction plan. And it included $1.5 trillion in tax increases.
Don't kid yourself that only the rich are going to pony up, though. Heck no!
The President's plan also calls for hikes in various fees, including airport security fees, which even the masses are going to have to pay.
According to the President, it's time "to live within our means." Really?
As this chart reveals, the average American has been doing just that ever since the recession hit.
We've been paying down our debts. Meanwhile, the government's been on a non-stop borrowing spree. And both parties bear the blame.
Of course, politicians argue that they needed to borrow heavily to provide funds to stimulate the economy. Nonsense.
I'm staring at a 1.3% GDP growth rate for the second quarter out of the U.S. Bureau of Economic Analysis that proves the current "spend to stimulate" argument is a joke.
As I said in late July, the solution to the current crisis isn't simply raising taxes. Everybody in Washington needs to get serious about slashing spending, too.
And God knows there's plenty of room for it!
As Bloomberg reports, the Justice Department has been springing for $16 muffins for conference attendees. (If you really want to flip your lid, check out some of nonsensical expenditures our tax dollars fund over at Citizens Against Government Waste.)
Ultimately, politicians could learn a thing or two about fiscal restraint from the average American. Just sayin'.
Is the Euro Really Doomed?
Across the pond, all currency hell appears to be breaking loose. The eurozone's in a nasty spot, with Standard & Poor's finally downgrading Italy's sovereign debt, which we predicted. (It wasn't a tough call.)
Don't read too much into all the fear in the headlines, though.
As this chart reveals, foreign banks are sitting on a much better cash cushion to weather the crisis than at any other period in recent history.
Does that guarantee all hell won't break loose if a few nations default on their bonds? No.
But it should provide the tiniest bit of comfort that the banks are at least more prepared than ever.
The possibility that China is also waiting in the wings to buy up euros, as my colleague, Karim, shared on Monday, is yet another reason to remain calm.
That's all for this week. But before you sign off, do me a favor. Let me know what you think about this column or any of our work at Wall Street Daily. All you have to do is send an email to feedback@wallstreetdaily.com or post a comment below.
Thanks and enjoy the weekend!
Ahead of the tape,
Louis Basenese
| | |
| --- | --- |
| | Louis Basenese helped direct over $1 billion in institutional capital at Morgan Stanley before launching out as an independent analyst and co-founding one of the web's largest financial publishers. Learn More >> |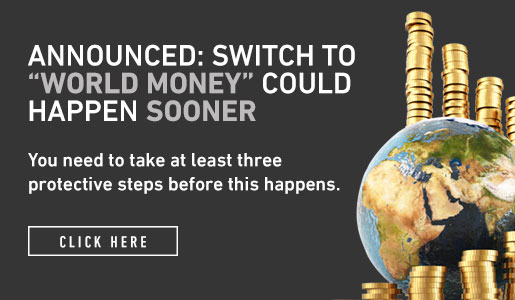 Comments (1)