If you're new to the Wall Street Daily Nation, here's the rundown…
Every Friday, I give your brain a break from reading my detailed written analysis and let the charts do the talking. I select some compelling graphics that sum up the week's most important investment news in just a quick glance.
And when it comes to important news, there's no question which issue is hogging all the headlines at the moment – the bitter, ongoing Congressional battle over America's debt ceiling.
Citizens and Investors Have No Faith in Federal Government
Compromise in Washington over raising the debt ceiling is proving more elusive than compromise in a marriage.
At this point, however, there's no doubt that political gamesmanship needs to be put aside to avert a crisis.
Easier said than done, though.
As I revealed last week, Americans don't believe so. In fact, rather than having faith in politicians, Americans believe politicians actually pose the biggest risk to the economy.
And the current impasse isn't doing anything to change that perception. With the clock ticking on a debt deal, investors are also souring on Congress… big-time.
Here's the proof: For the first time ever, credit default swap prices on one-year and five-year U.S. Treasuries have inverted.
What does this mean?
Basically, it now costs more to insure U.S. Treasuries for one year than it does for five years.
Or more simply put, "Inversion means there's short-term concern for default," says Greg Venizelos, strategist at BNP Paribas.
Note to Congress: Wake up! The market always knows best. The default risks are real. So get to a resolution, pronto!
Why Partisan Bickering is Like a Miller Lite Commercial
The debate in Washington isn't overly complicated. It boils down to nothing more than a classic Miller Lite commercial.
But instead of both sides shouting "Great Taste" and "Less Filling" back and forth, the opposing battle cries are "More Taxes" and "Less Spending."
So which is it? Do we need more taxes or less spending to solve our current fiscal dilemma?
I'll spare you my political beliefs and simply go to the charts. And based on this one from economist Menzie Chinn, it appears we need a combination of both.
As you can see, the gap between federal spending and federal revenue is widening, as a percentage of Gross Domestic Product (GDP).
And it's unlikely that we can eliminate such an expansive divide with either spending cuts or tax increases.
It remains to be seen whether or not the final solution (if Congress ever reaches one) will entail both options. But hopefully we'll find out before August 2!
Alternatively, you can just take the debt matters into your own hands…
Are You Feeling Charitable, Punk?
The government has actually set up a website that accepts donations to lower our national debt.
This is no joke.
You can even contribute by using a credit card. Talk about irony!
So if you're feeling charitable, go ahead and turn a small portion of our government debt into personal debt.
Oh wait… we're already on the hook personally. We're going to be forced to pay for the debt via taxes.
In any event, it's nice to know that the government is accepting donations. So go ahead and throw a few extra pennies at a multi-trillion problem if you feel inspired.
Believe it or not, Americans actually contributed $2.8 million last year.
Before you sign off, do me a favor: Please let us know what you think about this weekly column – or any of our recent work at Wall Street Daily – by sending an email to feedback@wallstreetdaily.com or by leaving a comment.
Thanks and enjoy the weekend!
Ahead of the tape,
Louis Basenese
| | |
| --- | --- |
| | Louis Basenese helped direct over $1 billion in institutional capital at Morgan Stanley before launching out as an independent analyst and co-founding one of the web's largest financial publishers. Learn More >> |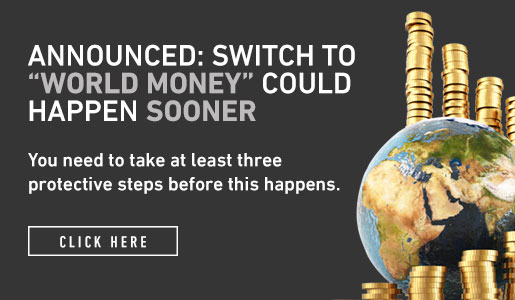 Comments (1)