By Louis Basenese, Chief Investment Strategist
Research by Justin Fritz, Staff Writer
In case you haven't heard, Research in Motion (Nasdaq: RIMM) has suffered a wave of bleak news lately:
First-quarter net income slumped by 26%, compared with Q4 2010…
Revenue is expected to fall almost $1 billion below consensus estimates this quarter…
A series of layoffs are planned in the coming months…
Shares are down 50% this year…
Given these dire fundamentals, it's no surprise that analysts are almost universally bearish on RIMM's prospects.
And in this case, they're right. The bearish outlook is well deserved. We're convinced that shares are poised to go from cheap, to even cheaper. Check out these signs that RIMM is nothing more than a value trap…
Marketshare in a Tailspin
According to a Needham analyst, RIMM's hold on the U.S. smartphone market has plummeted from over 37.8% last year to 13.8% this March.
As if that eye-popping plunge weren't enough, Apple (Nasdaq: AAPL) and Google (Nasdaq: GOOG) continue to gain momentum in the United States, snapping up 29.5% and 49.5% of the market, respectively.
And while companies might prefer RIMM's BlackBerrys, consumers obviously don't. Since the consumer market represents the bigger opportunity, RIMM's dwindling marketshare doesn't bode well for long-term profitability.
Consumers aren't alone in shunning RIMM, either. Developers are heading for the door, too…
Developers Are Done With RIMM
Take Seesmic, for instance. The firm reported that it will no longer develop its Twitter application for BlackBerry. Instead, it wants to "focus development efforts on our most popular mobile platforms: Android, iOS and Windows Phone 7."
Several other app developers are following suit, according to a Business Insider report.
Needless to say, this is terrible news for RIMM's prospects. (After all, if developers thought any profits were to be made, they'd stick around.)
And if the trend continues, RIMM's status as top dog in the enterprise market might be the only thing keeping the company above water. Even that's questionable though, now that more clients are downloading programs onto Apple iOS and Google Android devices.
So how did RIMM plumb such low depths?
Storm By Name… But Gentle Breeze By Nature
In our opinion, the company's BlackBerry Storm triggered the nosedive.
It was the company's first touchscreen device, and it failed to take advantage of the opportunity to make a splash in the touchscreen smartphone scene.
As CNET puts it, "There were a lot of expectations for the BlackBerry Storm to succeed. However, when the Storm finally blew into town, it was a definite letdown because of the phone's sluggish performance and bugginess."
By the time RIMM released an improved version of the device – the Storm 2 in 2009 – it was too late. Around the same time, the Motorola (NYSE: MMI) Droid launched, scooping up many Verizon customers who were waiting anxiously for a solid iPhone alternative.
So what was RIMM's response?
The RIMM Business Plan: Hope!
Rather than learning from the Storm's flop, it decided to repeat history by rushing to launch the underdeveloped PlayBook.
At least one RIMM employee acknowledges that they need to break the curse:
"We know we got caught resting on our laurels from a product perspective across the board. All we can do is hope that the current managers handling products in the pipeline can make things better. We're hoping for the best."
Hmm… "hoping for the best" isn't the most optimistic rallying cry.
But hope might be all RIMM has if its prospects – and shares – continue to tumble. And believe us when we say shares could fall much further.
Bottom line: RIMM is a value trap… avoid it.
Ahead of the tape,
Louis Basenese & Justin Fritz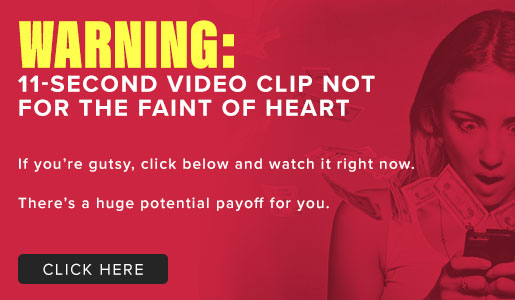 Comments (1)